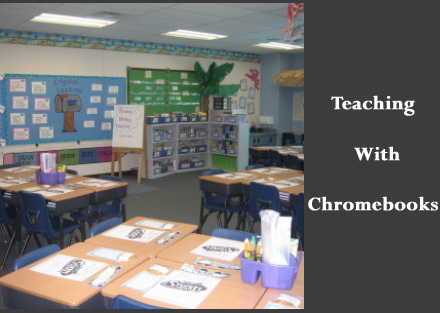 September 2016
Dear Families,
I am not sure how many of you are familiar with Donorschoose.org, but it is a wonderful website for educators to post classroom projects so that the community has the opportunity to help fund them. I have created a project on this site called "Teaching With Chromebooks," and am looking for additional support to have the project funded. I am very passionate about integrating technology in every subject area. Technology prepares students for the future.
Our school has approximately 1,000 students and includes one computer lab available for classroom teachers to use with students. Unfortunately, this one computer lab may not be used at all for approximately 10 weeks of the school year due to district wide testing. Also, this computer lab has approximately 30 computers making it challenging to accommodate a class of 35. This makes it difficult to integrate technology throughout the curriculum. I believe that technology not only motivates my students but enhances my teaching.
Please visit the following link to see the specifics of this project that I hope to fund for our classroom:
Go to: donorschoose.org
You can search by zip code, 89141, Ms. Adams, or Evelyn Stuckey
OR
www.donorschoose.org/wadams/ (Using this link, then click on Teaching With Chromebooks.)
This year, we will be using technology to publish stories, create and present slide show presentations, research, create a Nevada virtual museum, and more! If you have any ideas on how I can bring more technology in the classroom, please let me know! I would love to get additional PC laptops (I can install Microsoft Office on them) and Chromebooks are a less expensive option that will allow students to type stories using Google Docs, make slide shows, and complete research. Also, if you know of a business that needs a tax write off and would like to donate to our classroom, that would be amazing!
Please spread the word to people or companies who may jump at this opportunity to support our classroom (It is a tax write off☺). I know we can do it!
Sincerely,

Ms. Adams and our fabulous 4th graders!
Ms. Adams
Evelyn Stuckey Elementary School
Las Vegas, NV
4th Grade