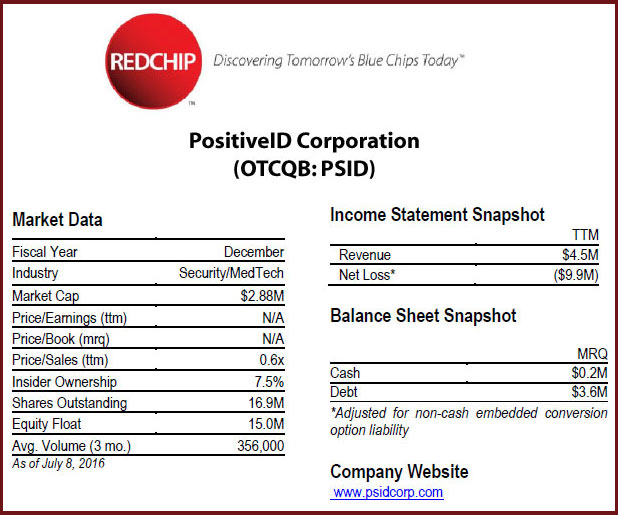 Company Overview
PositiveID Corporation is a life sciences tools and diagnostics company with an extensive patent portfolio. PositiveID develops biological detection and diagnostics systems and mobile technology vehicles, with a focus on point-of-need bio-threat detection, rapid medical testing, and homeland security. The Company's products lower the cost, reduce the time needed to administer the test/perform the service, and/or provide more sensitive/specific test results relative to current competing solutions.
Value Proposition
PSID has multiple product lines that have the potential to generate significant sales over the next several years. The Company operates in multiple high-growth, multibillion dollar industries and boasts a blue-chip client list, which consists of companies such as Boeing, Exxon Mobil, 3M, the U.S. Department of Defense, NASA, and McKesson. PSID recently reported record revenues for 2015, and revenues are expected to accelerate over the next several years as product lines are commercialized and launched. Companies operating in the high-tech security and medical industries typically trade at P/S multiples of 3x-5x. PSID is currently trading at a P/S of less than 1.0x on projected 2016 revenues of $5-6M, providing upside from the Company's current share price.
Investment Highlights
* Leading molecular diagnostic technologies using polymerase chain reaction (PCR) chemistry, that are accurate, rapid, easy-to-use, cost-effective, and assay agnostic
* Firefly Dx is designed to provide accurate biological detection in less than 30 minutes at the point-of-need using real-time PCR in a handheld device
- Provides lab-quality results anywhere, any time; faster and less expensive than existing systems; targeting the multibillion dollar real-time PCR market
- Benchtop prototype has successfully detected E.coli, influenza, MRSA, MSSA, C. diff o Pursuing a government contract or commercial partner to help fund final development of smaller, field-able prototype for testing by third parties to prepare for commercialization
* M-BAND bio-aerosol monitor tests for airborne bio-threats in high-traffic locations
- Developed with $30M of contract funding from U.S. Department of Homeland Security; developed to meet autonomous detection requirement of next-gen BioWatch program;
- The Boeing Company paid PSID a $2.5M license fee in 2013 for exclusive manufacturing and distribution rights to M-BAND in North America ?
- If M-BAND is implemented as part of the next generation Biowatch system it could mean up to 2,500 units sold by Boeing which could provide recurring revenue of $90-$120M/year with 15-20% net margins to PositiveID
* Recent acquisitions of E-N-G (specialty technology vehicles) and Caregiver (non-contact thermometer) provide revenues and synergies (distribution channels, experienced management, customer opportunities) with other PSID product lines
- E-N-G averaged revenue of $4 million annually over the last 10 years, with gross margins averaging 35%; industry leader has delivered more than 1,200 speciality technology vehicles o Caregiver reduces contamination risk and saves medical facilities the cost of probe covers ($0.05 to $0.10 per temp), storage space, and disposal costs; targeting the fastest growing segment of the global thermometry market, estimated at $1B by 2020
* Record revenues of $2.9 million in FY15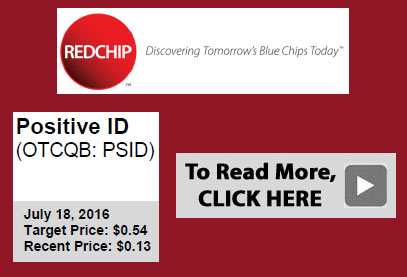 Disclaimer:
The information contained herein is not intended to be used as the basis for investment decisions and should not be construed as advice intended to meet the particular investment needs of any investor. The information contained herein is not a representation or warranty and is not an offer or solicitation of an offer to buy or sell any security. To the fullest extent of the law, RedChip Companies, Inc., our specialists, advisors, and partners will not be liable to any person or entity for the quality, accuracy, completeness, reliability or timeliness of the information provided, or for any direct, indirect, consequential, incidental, special or punitive damages that may arise out of the use of information provided to any person or entity (including but not limited to lost profits, loss of opportunities, trading losses and damages that may result from any inaccuracy or incompleteness of this information). PositiveID Corp (OTCQB: PSID) is a client of RedChip Companies, Inc. PSID agreed to pay RedChip Companies, Inc. a monthly cash fee and 435,000 shares of Rule 144 common stock for 12 months of RedChip investor awareness services and consulting services. Investor awareness services and programs are designed to help small-cap companies communicate their investment characteristics. RedChip investor awareness services include the preparation of a research profile(s), multimedia marketing, and other awareness services.