Daily Commentary
Yet another day of incredibly boring trading, unless you owned either the "daily double" or the disaster de jour. Of course there was plenty of excitement after the close in any number of earnings surprises; CYBR, SPWR and some names that no one really cares about. DIS was okay and the Eiger interview was more about the Company's flexibility to manage its new mix of products and services.
The market internals were pretty even for the day with advance/declines were 1561 to 1376 and the volume was 390 to 348:2. As I've said several times in the last 2 week's "The longer we spend consolidating over the breakout over 2150 (S&P500) the more the chance we are going higher. Again today we had new highs in the NASDAQ, S&P500 and the DJIA.
After taking a small loss in the AAPL put position, I went into the GLD 8/127 calls. The chart on the next page shows the support at the prior breakout and while it really hasn't bounced much, the quiet stability can turn on this one with just some unrest or currency trouble anywhere on the globe.
The US$ has had a bit of a bottoming action on the lower end of the Bollinger Bands which are basically the limits of the specific trading ranges for commodities or stocks. Along with the moving averages and the past support around 95, we can see some further improvement would cause us to bail on the stronger dollar index, since the stronger the dollar becomes, the weaker the pricing of internationally traded goods that are denominated in US$. There is some formidable resistance between 96.50 and 97.
We'll wait and see if anyone else lowers rates or reports trouble in their economy that causes the dollar to fall.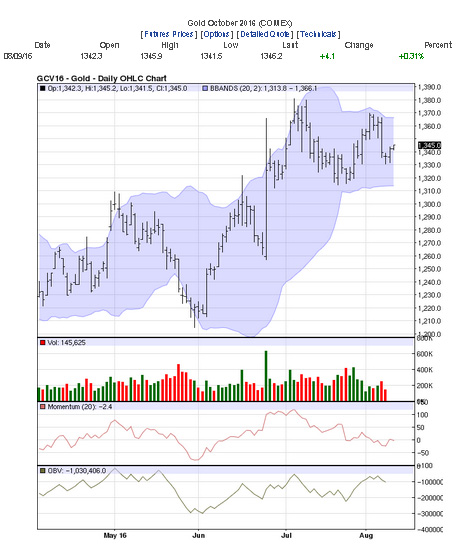 CAM
Contact:
Princeton Research, Inc.
Mike King
mike@princetonresearch.com
or
Charles Moskowitz
cam@princetonresearch.com
Phone: (702) 650-3000
Fax: (702) 697-8944
www.princetonresearch.com
The Views and Opinions expressed in this article are the author's own and do not necessarily reflect those of this Web-Site or its agents, affiliates, officers, directors, staff, or contractors.