Covering High return Balanced Investing Strategies To
Make Money In Up Or Down Markets
A Publication of Princeton Research, Inc. (www.PrincetonResearch.com)
Contributing Staff: Michael King, Charles Moskowitz
December 06, 2015
Charles Moskowitz Discussion
Week 49 was produced a small loss, but that really wasn't the whole story.
The losses in HOG and GILD were the "second half" of trades that we closed out last week either by text or 100% Up rules. For the week we lost $ . 92 bringing YTD gains to $8,216. Funds in use are $1080.
The action this week also brought up many questions about the validity of our 50% Down rule. I can only say that this rule has saved us money about 95% of the time, but after being stopped out of our position in the TBT calls on Wednesday before a 350% move on Thursday I am willing to make an exception to this rule. This will only occur when we are getting a move based on overnight or premarket action AND there is a text message with a new stop issued prior to the open. In the case of the TBT (reverse 20-year bond ETF) I have continuously discussed in this space that bond yields will not only rise, but the change in TREND of interest rates happens rarely and the new trend generally stays in place for multiple years.
As Mike King discusses later in this weeks letter, the Gold market has made some real headway this week. Is it a bottom, or just a short-covering rally off a dramatically oversold commodity?? Mike has pointed out that there is a seasonal tendency for a long Gold position to work in this current timeframe. In studying the chart on gold, I see something that generally doesn't occur often; a "key reversal." This occurs when any market undergoes a steady and extreme rise or decline, followed by new contract low (or high) followed by a reversal in price and closing at the extreme end of the range. Gold has had a 4 year decline from 1900 to this weeks low of 1057, a move of almost 45%. Clearly that was a major decline. I want to also point out that a very smart friend of mine pointed out to me 2 weeks ago that many of the futures markets were getting into areas that he felt warranted participation on the "long" side. What he said was, "You know that these markets can't go to zero, They aren't stocks that can go out of business and go to zero, these are "stuff" and we continue to value them." Well, this week all that "stuff" moved higher. Wheat made a new low and then rallied, as did soybeans, cattle, hogs, cocoa, sugar, and cotton. The point is….these are the building blocks of inflation. While the metals aren't known for rallying with interest rates moving higher, those rates are probably not going very far very fast……CAM
New Trades Options account:
( 1 ) Buy 4 January GLD 104 Calls @ $ 1.50
( 2 ) Buy 4 CRM January 82.50 Calls @ $ 2.25
All trades were based on your participation in the texting service to receive updates. Previous closed out trades not listed here may be seen in previous market letters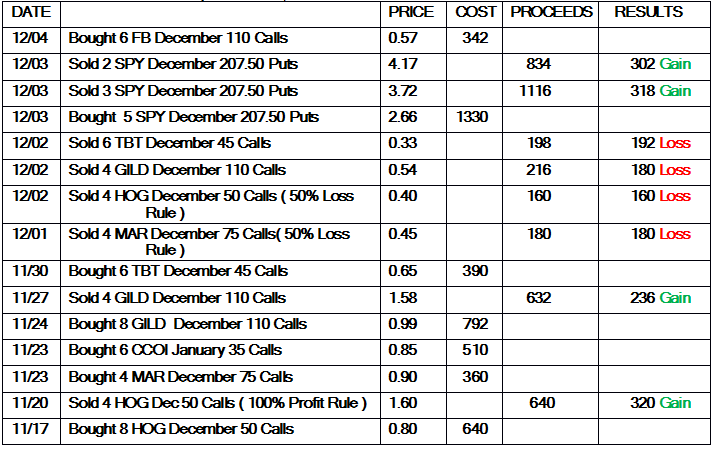 New trades $ 10,000 account...In Texting we have a limited amount of words. In the interest of brevity: OPTIONS ONLY: 1 January , 2 February. The Quantity and Strike Price for each trade is specific. Trading is hypothetical. We may trade weekly options and they are noted: SPY 1/25 147 for SPY Jan 25th 147 Calls or Puts.For questions please call 702 650 3000. Closed out positions are found in previous letters dating back four years: Nov30th; 23rd; 16th; 9th; 2nd; Oct 26th;19th;12th; 5th;Sept th;21st;14th;7th;Aug 31st; 24th; 17th;10th etc
or ( http://www.princetonresearch.com/12-7-2015-Market-Strategies.pdf )
Mike King
Princeton Research
3887 Pacific Street, Las Vegas, Nevada 89121
Or:
Charles Moskowitz
CAM@MoneyInfo-LLC.com
Phone: (702) 650-3000
Fax: (702) 697-8944
mike@princetonresearch.com or cam@princetonresearch.com
Visit: www.princetonresearch.com
Disclaimer*
Princeton is paid $ 1,500 per month from RMS Medical Products. The SITS contract calls for $ 1,500 per month. Princeton had been engaged by Target Energy. No contract is currently in place. . Princeton is paid $ 2500 per month by Immune Therapeutics. Princeton was paid about 300,000 restricted shares of Leo Motors. Princeton is paid $ 2,500 per month for International Star. Princeton is paid $ 2,500 from International Sustainability and is due $ 5,000 per month. Pursuant to the provisions of Rule 206 (4) of the Investment Advisers Act of 1940, readers should recognize that not all recommendations made in the future will be profitable or will equal the performance of any recommendations referred to in this Email issue. Princeton may buy or sell its free-trading shares in companies it represents at any time.
****
Crown Equity Holdings Inc. has received $1,000 dollars for the publication of Princeton Research, Inc.'s Weekly Market Strategies within the CRWE World network for 12 months