Covering High return Balanced Investing Strategies To
Make Money In Up Or Down Markets
A Publication of Princeton Research, Inc. (www.PrincetonResearch.com)
Contributing Staff: Michael King, Charles Moskowitz

August 20, 2017
Charles Moskowitz Discussion
Week 33 was a small loss of $210 bringing YTD gains to $11,073. We have only 1 position of the remaining SKYW calls using $240. The first half was sold at a 300% gain, so there is no cost for this one.
The week was another reason to believe we are in a correction. To be 100% technical we have now made a new high and had a "reversal week" and a break, a rally that failed at the point of breakdown, another rally and failure at the prior break and another break. This occurred on the DJIA, S&P500, and NASDAQ. In fact, the only place it did not occur was the Transports, which is down over 7.6%, has broken not only the 13 and 50, but even the 200 day moving averages. So if you subscribe to the Dow Theory, and the idea that the Transports lead the rest of the market, we are already into the correction. A look at some of the 20 stocks that make up the DJ Transports and it gets even worse, with very long uptrends being broken for the first time in years. Only the DJIA is above the 50 day.
One of the groups that has had a deep dive lower is Retail. From its monthly high of $51.25 in 4/15 to this weeks close of $48.19 we have seen a 26% drop while the other markets have made new highs. Stocks like Macy's (M) has made a 7 year low after all-time new highs ($72) in August 2015 we have fallen to $19.49, a drop of 73%. Losses in many of the others, DDS -60%, JWN- 50%,and KSS -56%. While the market has worked higher this group has been affected by growth in consumer credit and a pickup in auto subprime debt (now stretched to as much as 72 and 84 month terms) and the declining mall traffic. On the technical side of the XRT chart we are back to support here from 2/2014 @ 38.40 and 2/2016 @ 37.80. We are only slightly oversold. A break here and we could test the monthly low of 32.44 made on the last major breakout in 2/2013. The big names have been soft too, with GOOGL and AMZN both below their 50 day moving averages and NFLX and NVDA resting on theirs.
With all these factors, you would think lower prices are coming, but my tactic is to take advantage of the closeness of the lows to be a buyer using the breakdowns as my stopping-out point. This will be the method for the week (or weeks) coming. It may cause some small losses, but even 1 or 2 that hold and start higher will make money.
Watch for text alerts to participate...CAM

All trades were based on your participation in the texting service to receive updates.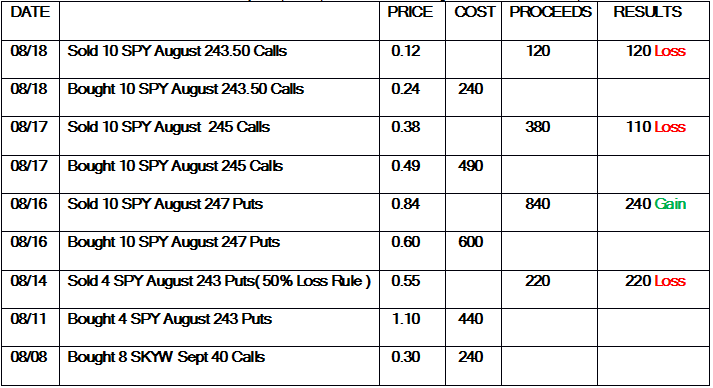 New Trades Options Account
( 1 ) Buy 10 M September $ 20 Calls @ $ 0.42
( 2 ) Buy 6 CSTM Sept $ 10 Calls @ $ 0.80
( 3 ) Buy 4 NVDA August 25th $165 Calls @ $ 1.10
NEW Trades $ 100 000 account:
( 1 ) Buy 20 M September $ 20 Calls @ $ 0.42
( 2 ) Buy 12 CSTM September $ 10 Calls @ $ 0.80
( 3 ) Buy 8 NVDA August 25th $165 Calls @ $ 1.10

Contact:
Mike King
Princeton Research
3887 Pacific Street, Las Vegas, Nevada 89121
Or:
Charles Moskowitz
CAM@MoneyInfo-LLC.com
617 827 1296
Phone: (702) 650-3000
Fax: (702) 697-8944
mike@princetonresearch.com or cam@princetonresearch.com
Visit: www.princetonresearch.com
Disclaimer*
Princeton is paid $ 1,500 per month from RMS Medical Products. The SITS contract calls for $ 1,500 per month. Princeton had been engaged by Target Energy. No contract is currently in place. . Princeton is paid $ 2500 per month by Pressure Biosciences. Princeton was paid about 300,000 restricted shares of Leo Motors. Princeton is paid $ 2,500 per month for International Star. Princeton is paid $ 2,500 from Leo Motors. Pursuant to the provisions of Rule 206 (4) of the Investment Advisers Act of 1940, readers should recognize that not all recommendations made in the future will be profitable or will equal the performance of any recommendations referred to in this Email issue. Princeton may buy or sell its free-trading shares in companies it represents at any time. Y means the writer has a position of 10,000 shares in the stock recommended. See Full Disclosure and Disclaimer Notice Here
The news, reports, views and opinions of authors (or source) expressed are their own and do not necessarily represent the views of CRWE World. Full Disclaimer at http://crweworld.com/finance_disclaimer