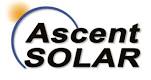 Ascent Solar Technologies, Inc. (ASTI)
ASTI disclosed in a regulatory filing ( S-1 ) with the Securities and Exchange Commission (SEC) a prospectus relating to the offer and sale of up to 48,000,000 shares of its common stock by Redwood Management, LLC.
ASTIsaid that it is not selling any securities under this prospectus and the company will not receive any proceeds from the sale of shares by the selling stockholder
ASTIrecently reported that it was issued the second of two US Patents, in past December, pertaining to the company's solar manufacturing process.
ASTIshares closed at $0.115, down $0.005 (or -4.34%) on Friday's trading session
ASTIis a developer of award winning thin-film photovoltaic modules with substrate materials that are more flexible, versatile and rugged than traditional solar panels. ASTI's modules can be directly integrated into consumer products and off-grid applications, as well as aerospace and building integrated applications. EnerPlex is the Company's brand of consumer products and is a division of ASTI.
**
Disclaimer: The disclaimer is to be read and fully understood before using our site, or joining our email list. CRWEWorld Finance is not a registered investment adviser. This material is for informational purposes only and should not be construed as an offer or solicitation of an offer to buy or sell securities. Investors should always conduct their own due diligence with any potential investment, with independent research and other professional advice. Read Full Disclaimer at www.crweworld.com/finance_disclaimer