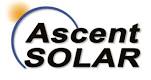 Ascent Solar Technologies, Inc. (ASTI) reported on Wednesday that it is offering $7 million of a newly designated Series F 7% Convertible Preferred Stock to Redwood Management LLC, which will be issued to the investor through a registered direct offering.
ASTI shares are trading at $0.0705, down 0.0105 (or -12.96%)
ASTI is a developer of award winning thin-film photovoltaic modules with substrate materials that are more flexible, versatile and rugged than traditional solar panels. ASTI's modules can be directly integrated into consumer products and off-grid applications, as well as aerospace and building integrated applications. EnerPlex is the Company's brand of consumer products and is a division of ASTI
*

Spherix Incorporated (SPEX) said in a letter to shareholders that it is moving forward as a company to address the significant licensing opportunity for its patents, targeting a specific, identified pool of potential licensees.
SPEXalso mentioned that it can now explore opportunities to sell specific patents to third parties, or to obtain debt and other financing through avenues not previously available.
According to SPEX, by negotiating and generating licensing revenues the company expects to capture its fair share of an enormous addressable market.
Shares of SPEX are currently exchanging hands for about $0.107, down $0.003 (or -2.90%)
SPEXis committed to advancing innovation by active participation in the patent market.
**
Disclaimer: The disclaimer is to be read and fully understood before using our site, or joining our email list. CRWEWorld Finance is not a registered investment adviser. This material is for informational purposes only and should not be construed as an offer or solicitation of an offer to buy or sell securities. Investors should always conduct their own due diligence with any potential investment, with independent research and other professional advice. Read Full Disclaimer at www.crweworld.com/finance_disclaimer