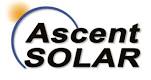 Shares of Ascent Solar Technologies, Inc. (ASTI) touched a new 52-week low on Friday's trading session, to finally close at $0.069, up $0.0044 (or +6.81%)
The company recently announced that it is offering $7 million of a newly designated Series F 7% Convertible Preferred Stock to existing investor Redwood Management LLC.
According to ASTI, this agreement for additional funding will allow the company to more easily manage the drawdown of the Committed Equity Line and further share issuance associated with the funding options
ASTI was awarded on December two US patents, securing an avenue of intellectual property rights covering multiple opportunities for improved processes and performance of the company's energy products.
ASTI said that this recent patent covers technology that has been in development at the company in an effort to reduce material and processing cost, as well as enable product entry into challenging markets such as high-altitude aircraft and space applications, which offer a wide opportunity set due to the lightweight nature of ASTI's proprietary technology
ASTI is a developer of award winning thin-film photovoltaic modules with substrate materials that are more flexible, versatile and rugged than traditional solar panels. ASTI's modules can be directly integrated into consumer products and off-grid applications, as well as aerospace and building integrated applications. EnerPlex is the Company's brand of consumer products and is a division of ASTI
**
Disclaimer: The disclaimer is to be read and fully understood before using our site, or joining our email list. CRWEWorld Finance is not a registered investment adviser. This material is for informational purposes only and should not be construed as an offer or solicitation of an offer to buy or sell securities. Investors should always conduct their own due diligence with any potential investment, with independent research and other professional advice. Read Full Disclaimer at www.crweworld.com/finance_disclaimer
The news, reports, views and opinions of authors (or source) expressed are their own and do not necessarily represent the views of CRWE World.