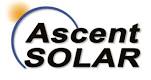 Shares of Ascent Solar Technologies, Inc. (ASTI) climbed to touch the $0.11 mark in early trade Friday, finally closing at $0.097, up 3.30%
ASTI said that its EnerPlex brand has launched a retail partnership with Utah-based Emergency Essentials, LLC both online and in Emergency Essentials' four "super-store" retail outlets across Utah.
According to ASTI, launching with Emergency Essentials is a key step forward for EnerPlex as the company pioneers its Emergency Vertical, which holds a total addressable market size of nearly half a billion dollars. With EnerPlex capturing only a few points of this market, ASTI believes this vertical could be a multi-million dollar revenue opportunity for the company.
ASTIrecently reported preliminary - unaudited - fourth quarter 2015 net revenue of $2.4 million, representing an approximately 90% increase compared to the previous quarter. ASTI posted full year 2015 net revenue of $6.5 million, an approximately 23% increase versus the same period the prior year
ASTI is a developer of award winning thin-film photovoltaic modules with substrate materials that are more flexible, versatile and rugged than traditional solar panels. ASTI's modules can be directly integrated into consumer products and off-grid applications, as well as aerospace and building integrated applications. EnerPlex is the Company's brand of consumer products and is a division of ASTI
**
Disclaimer: The disclaimer is to be read and fully understood before using our site, or joining our email list. CRWEWorld Finance is not a registered investment adviser. This material is for informational purposes only and should not be construed as an offer or solicitation of an offer to buy or sell securities. Investors should always conduct their own due diligence with any potential investment, with independent research and other professional advice. Read Full Disclaimer at www.crweworld.com/finance_disclaimer
The news, reports, views and opinions of authors (or source) expressed are their own and do not necessarily represent the views of CRWE World.