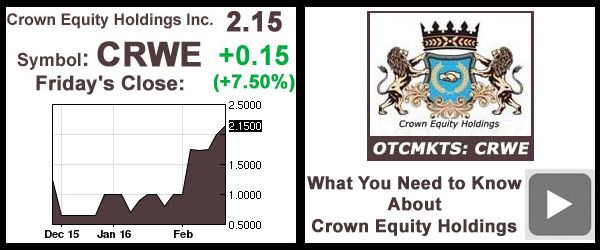 * Notable Companies Earnings Reports To Watch For Tuesday, February 16, 2016 *
Pre-Market:
Baxalta Incorporated (BXLT)
Build-A-Bear Workshop Inc. (BBW)
Cementos Pacasmayo SAA (CPAC)
Ceragon Networks Ltd. (CRNT)
CryoLife Inc. (CRY)
CSW Industrials, Inc. (CSWI)
DHX Media Ltd. (DHXM)
Generac Holdings Inc. (GNRC)
Genuine Parts Company (GPC)
Hormel Foods Corporation (HRL)
Palatin Technologies Inc. (PTN)
Restaurant Brands International Inc. (QSR)
RTI Surgical Inc. (RTIX)
Sagent Pharmaceuticals, Inc. (SGNT)
Sonus Networks, Inc. (SONS)
Student Transportation Inc. (STB)
Surgical Care Affiliates, Inc. (SCAI)
TEGNA Inc. (TGNA)
TIER REIT, Inc (TIER)
Tile Shop Holdings, Inc. (TTS)
Yandex N.V. (YNDX)
Zoetis Inc. (ZTS)
Live Ventures Incorporated (LIVE) - Time Not Supplied
After Market Close:
Acadia Healthcare Company, Inc. (ACHC)
Agilent Technologies Inc. (A)
American Assets Trust, Inc. (AAT)
Blackstone Mortgage Trust, Inc. (BXMT)
Boyd Gaming Corporation (BYD)
CAI International Inc. (CAI)
Carriage Services Inc. (CSV)
Cerner Corporation (CERN)
Cheesecake Factory Incorporated (CAKE)
Cimarex Energy Co. (XEC)
CorpBanca (BCA)
Cytokinetics, Incorporated (CYTK)
Danaos Corporation (DAC)
Devon Energy Corporation (DVN)
Diodes Incorporated (DIOD)
Dynagas LNG Partners LP (DLNG)
Ellington Financial LLC (EFC)
Essendant Inc. (ESND)
Exactech Inc. (EXAC)
Express Scripts Holding Company (ESRX)
Falconstor Software Inc. (FALC)
FirstEnergy Corp. (FE)
FMC Technologies, Inc. (FTI)
Fossil Group, Inc. (FOSL)
Full Circle Capital Corporation (FULL)
Harmonic Inc. (HLIT)
Healthcare Realty Trust Incorporated (HR)
Healthstream Inc. (HSTM)
Hersha Hospitality Trust (HT)
Imprivata, Inc. (IMPR)
inContact, Inc. (SAAS)
Innospec Inc. (IOSP)
Kaiser Aluminum Corporation (KALU)
Laredo Petroleum, Inc. (LPI)
Nabors Industries Ltd. (NBR)
Neenah Paper, Inc. (NP)
North American Energy Partners Inc. (NOA)
pdvWireless, Inc. (PDVW)
Potbelly Corporation (PBPB)
PS Business Parks Inc. (PSB)
Public Storage (PSA)
Rackspace Hosting, Inc. (RAX)
T2 Biosystems, Inc. (TTOO)
TransUnion (TRU)
VASCO Data Security International Inc. (VDSI)
Vornado Realty Trust (VNO)
Watts Water Technologies, Inc. (WTS)
Weingarten Realty Investors (WRI)
Zendesk, Inc. (ZEN)
Zix Corporation (ZIXI)
**
Disclaimer: The disclaimer is to be read and fully understood before using our site, or joining our email list. CRWEWorld Finance is not a registered investment adviser. This material is for informational purposes only and should not be construed as an offer or solicitation of an offer to buy or sell securities. Investors should always conduct their own due diligence with any potential investment, with independent research and other professional advice. Read Full Disclaimer at www.crweworld.com/finance_disclaimer
The news, reports, views and opinions of authors (or source) expressed are their own and do not necessarily represent the views of CRWE World.