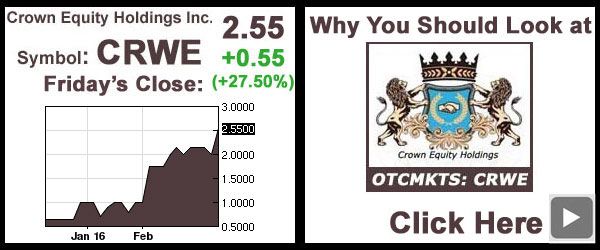 * Notable Companies Earnings Reports To Watch For Monday, February 29, 2016 *
Pre-Market:
ACADIA Pharmaceuticals Inc. (ACAD)
AMC Entertainment Holdings, Inc. (AMC)
Balchem Corp. (BCPC)
BroadSoft, Inc. (BSFT)
Chimerix, Inc. (CMRX)
Ebix Inc. (EBIX)
Endo International plc (ENDP)
EV Energy Partners, L.P. (EVEP)
Federal-Mogul Holdings Corporation (FDML)
Federal Signal Corporation (FSS)
Frontline Ltd. (FRO)
Global Partners LP (GLP)
Golar LNG Ltd. (GLNG)
Gran Tierra Energy, Inc. (GTE)
Höegh LNG Partners LP (HMLP)
Horizon Pharma plc (HZNP)
Icahn Enterprises, L.P. (IEP)
Lumber Liquidators Holdings, Inc. (LL)
NewLink Genetics Corporation (NLNK)
Orbital ATK, Inc. (OA)
Scorpio Tankers Inc. (STNG)
TASER International Inc. (TASR)
Valeant Pharmaceuticals International, Inc. (VRX)
Walter Investment Management Corp. (WAC)
Grupo Aeroportuario del Centro Norte, S.A.B. de C.V. (OMAB) - Time Not Supplied
After Market Close:
Actua Corporation (ACTA)
Anacor Pharmaceuticals, Inc. (ANAC)
Arena Pharmaceuticals, Inc. (ARNA)
Baozun Inc. (BZUN)
California Resources Corporation (CRC)
China Cord Blood Corporation (CO)
Crocs, Inc. (CROX)
Diplomat Pharmacy, Inc. (DPLO)
DURECT Corporation (DRRX)
Exelixis, Inc. (EXEL)
Greatbatch, Inc. (GB)
Halozyme Therapeutics, Inc. (HALO)
Hertz Global Holdings, Inc. (HTZ)
Intrexon Corporation (XON)
JP Energy Partners LP (JPEP)
Juno Therapeutics Inc. (JUNO)
Kite Pharma, Inc. (KITE)
LSB Industries Inc. (LXU)
Magellan Health, Inc. (MGLN)
MBIA Inc. (MBI)
Netlist Inc. (NLST)
Nevro Corp. (NVRO)
NovoCure Limited (NVCR)
Ocwen Financial Corp. (OCN)
OPOWER, Inc. (OPWR)
Pacific Drilling S.A. (PACD)
PTC Therapeutics, Inc. (PTCT)
RigNet, Inc. (RNET)
Rockwell Medical, Inc. (RMTI)
Sykes Enterprises, Incorporated (SYKE)
TubeMogul, Inc. (TUBE)
Tutor Perini Corporation (TPC)
Workday, Inc. (WDAY)
ZELTIQ Aesthetics, Inc. (ZLTQ)
**
Disclaimer: The disclaimer is to be read and fully understood before using our site, or joining our email list. CRWEWorld Finance is not a registered investment adviser. This material is for informational purposes only and should not be construed as an offer or solicitation of an offer to buy or sell securities. Investors should always conduct their own due diligence with any potential investment, with independent research and other professional advice. Read Full Disclaimer at www.crweworld.com/finance_disclaimer
The news, reports, views and opinions of authors (or source) expressed are their own and do not necessarily represent the views of CRWE World.