Covering High return Balanced Investing Strategies To
Make Money In Up Or Down Markets
A Publication of Princeton Research, Inc. (www.PrincetonResearch.com)
Contributing Staff: Michael King, Charles Moskowitz
April 03, 2016
Charles Moskowitz Discussion
Week 13 wasn't unlucky for the Options account. We had a gain of $462 bringing YTD gains to $2,883. We have only 2 positions with the second half of the GLD calls (first half sold via text at near 100% up) and the SIG puts. One trade Virgin Airways ( VA ) is in the $100,000 account that will be a big winner Monday, which we couldn't make in the options account.
Virgin Air is being bought by Alaskan Air around $20 over what we paid, but the structure of the available options, not being particularly active, were only every $5 for strike prices, and have been inactive until Friday. You might be tempted to say that with a $20 who cares, but we don't usually buy options based on takeover rumors, and buying a call that is out the money by several dollars doesn't fit our risk parameters. Of course after the fact they look cheap, but without the deal they generally turn out worthless…

We edged higher again this past week, and frankly it doesn't feel that appropriate. If things are good, the Fed will raise rates, if things are bad, and earnings season starts in a few weeks (with most projections for bad news) then the market is fully priced right where it is. I'm pretty sure that no one has forgotten what happened when rates moved higher in December. The only sector that could be helped from higher rates would be the financial. As discussed before, the positive yield curve gives the banks better margins on business loans. Even if the Fed raises rates, the savings rate has steadily increased over the past 12 months, and the banks aren't paying much for the use of those funds.

The election is beginning to look like a "lose / lose" proposition. Hillary hates drug companies and talks about Wall Street (although she takes piles of $$ from them).
Bernie would be a disaster with all of the social programs that can't be paid for and his continuing demonization of the "rigged" economy. Trump doesn't even deserve an explanation of his short comings….

So, we're long GLD calls with virtually no cost and short the SIG with a very close stop.
If, by chance Yellen comes across as dovish, the gold has pulled back and tested our last buy point and can move back to $1250-1260…CAM
All trades were based on your participation in the texting service to receive updates. Previous closed out trades not listed here may be seen in previous market letters.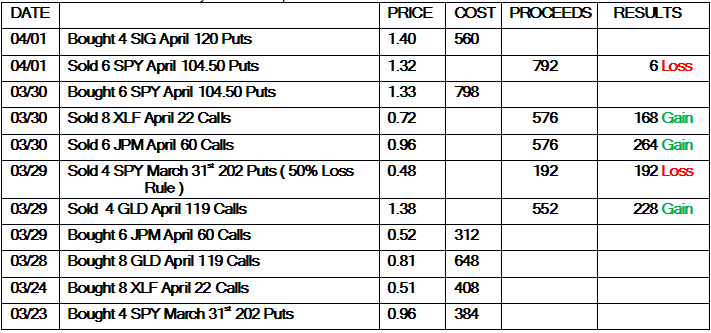 New trades $ 10,000 account...In Texting we have a limited amount of words. In the interest of brevity: OPTIONS ONLY: 1 January , 2 February. The Quantity and Strike Price for each trade is specific. Trading is hypothetical. We may trade weekly options and they are noted: SPY 1/25 147 for SPY Jan 25th 147 Calls or Puts.For questions please call 702 650 3000. Closed out positions are found in previous letters dating back four years: March 28th;21st;14th;7th; Feb 29th22nd; 15th; 8th; 1st;Jan 25th; 18th; 11th; 4th; Dec 28th;21st;14th; 7th; Nov30th; 23rd; 16th; 9th; 2nd; Oct 26th;19th;12th; 5th
3rd Week expiration When the month is listed without a date
New Trades Options Account:
( 1 ) Buy 8 JPM April 60 Calls @ $ 0.63
( 2 ) Buy 4 BA April 128 Calls @ $ 1.24
NEW Trades $ 100,000 account :
( 1 ) Buy 16 JPM April 60 Calls @ $ 0.63
( 2 ) Buy 8 BA April 128 Calls @ $ 1.24
( 3 ) Buy 50 VRX at Mkt
( 4 ) Sell 200 VA @ $ 55 ( all trades limit price or Better )

Contact:
Mike King
Princeton Research
3887 Pacific Street, Las Vegas, Nevada 89121
Or:
Charles Moskowitz
CAM@MoneyInfo-LLC.com
781 826 8882
Phone: (702) 650-3000
Fax: (702) 697-8944
mike@princetonresearch.com or cam@princetonresearch.com
Visit: www.princetonresearch.com
Disclaimer*
Princeton is paid $ 1,500 per month from RMS Medical Products. The SITS contract calls for $ 1,500 per month. Princeton had been engaged by Target Energy. No contract is currently in place. . Princeton is paid $ 2500 per month by Immune Therapeutics. Princeton was paid about 300,000 restricted shares of Leo Motors. Princeton is paid $ 2,500 per month for International Star. Princeton is paid $ 2,500 from International Sustainability and is due $ 5,000 per month. Pursuant to the provisions of Rule 206 (4) of the Investment Advisers Act of 1940, readers should recognize that not all recommendations made in the future will be profitable or will equal the performance of any recommendations referred to in this Email issue. Princeton may buy or sell its free-trading shares in companies it represents at any time.
****
Crown Equity Holdings Inc. has received $1,000 dollars for the publication of Princeton Research, Inc.'s Weekly Market Strategies within the CRWE World network for 12 months