Covering High return Balanced Investing Strategies To
Make Money In Up Or Down Markets
A Publication of Princeton Research, Inc. (www.PrincetonResearch.com)
Contributing Staff: Michael King, Charles Moskowitz
May 29, 2016
Charles Moskowitz Discussion
Week 21 was a minor gain of $ 30 bringing YTD gains to $4594. We have only 3 open positions in AA 6/9 calls, TGT 6/70 calls and HL September calls, using $1109 for those positions.
As I mentioned last week, the AAII bullish number was at a dramatic low of 19%, and yet even with the rally that drove both the Dow and the S&P500 up over 2%, the number declined to 17.8% and almost 53% are unsure, or neutral. Also mentioned was the fact that both charts were "flagging out" and this week's consolidation was all above the crucial breakout from support around 2020 (S&P). The market continues to defy the economic numbers like 3 straight quarters of recession style earnings reports for many of the big names. As I've said MANY times before, beating drastically reduced "expectations" is not a meaningful accomplishment.
The Gold market was dramatically lower this week and while we took some losses and had a net loss on the 2 NEM positions, I am again going to get long the metal tomorrow.
I've attached a chart of the June contract on page 13, which includes price, momentum, on balance volume and Bollinger Bands. While you may not have the experience with a chart like this I will give you my reading of it:
The futures are very oversold. The price has been down 8 days in a row.
The price is at the bottom of the Bollinger Bands. This is an actual resource and unlike a stock it may fluctuate, but it can't go to $0.
We are at support which has held and sent prices higher several times. While I would not blindly buy this market I will try to buy calls at or near the $1200-1210 level. We still own the HL calls, and while they are at a small loss they are also somewhat longer dated and don't expire until the 3rd week in September.

Have a good week and thanks to all those who emailed me with condolences on the loss of my younger brother this past week…….CAM
All trades were based on your participation in the texting service to receive updates. Previous closed out trades not listed here may be seen in previous market letters.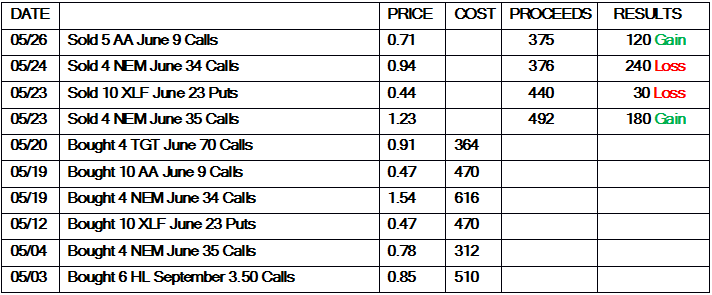 New trades $ 10,000 account...In Texting we have a limited amount of words. In the interest of brevity: OPTIONS ONLY: 1 January , 2 February. The Quantity and Strike Price for each trade is specific. Trading is hypothetical. We may trade weekly options and they are noted: SPY 1/25 147 for SPY Jan 25th 147 Calls or Puts.For questions please call 702 650 3000. Closed out positions are found in previous letters dating back four years: May23rd;16th;9th;2nd; April 25th;18th;11th;4th; March 28th;21st;14th;7th; Feb 29th22nd; 15th; 8th; 1st;Jan 25th; 18th; 11th; 4th
3rd Week expiration When the month is listed without a date
New Trades Options Account:
( 1 ) Buy 4 NEM June 31 Calls @ $ 1.39
( 2 ) Buy 4 KR June 35 Calls @ $ 1.29

NEW Trades $ 100,000 account :
( 1 ) Buy 20 NUGT @ $ 64.95
( 2 ) Buy 8 NEM June 31 Calls @ $ 1.39
( 3 ) Buy 8 KR June 35 Calls @ $ 1.29

Contact:
Mike King
Princeton Research
3887 Pacific Street, Las Vegas, Nevada 89121
Or:
Charles Moskowitz
CAM@MoneyInfo-LLC.com
781 826 8882
Phone: (702) 650-3000
Fax: (702) 697-8944
mike@princetonresearch.com or cam@princetonresearch.com
Visit: www.princetonresearch.com
Disclaimer*
Princeton is paid $ 1,500 per month from RMS Medical Products. The SITS contract calls for $ 1,500 per month. Princeton had been engaged by Target Energy. No contract is currently in place. . Princeton is paid $ 2500 per month by Immune Therapeutics. Princeton was paid about 300,000 restricted shares of Leo Motors. Princeton is paid $ 2,500 per month for International Star. Princeton is paid $ 2,500 from International Sustainability and is due $ 5,000 per month. Pursuant to the provisions of Rule 206 (4) of the Investment Advisers Act of 1940, readers should recognize that not all recommendations made in the future will be profitable or will equal the performance of any recommendations referred to in this Email issue. Princeton may buy or sell its free-trading shares in companies it represents at any time.
**
Crown Equity Holdings Inc. has received $1,000 dollars for the publication of Princeton Research, Inc.'s Weekly Market Strategies within the CRWE World network for 12 months