Covering High return Balanced Investing Strategies To
Make Money In Up Or Down Markets
A Publication of Princeton Research, Inc. (www.PrincetonResearch.com)
Contributing Staff: Michael King, Charles Moskowitz

June 12, 2016
Charles Moskowitz Discussion
Week 23 was a gain of $611 bringing our YTD gains to $5273. The star performer was the liquidation of the SLV (silver ETF) position. The original position was started at $ .38 and the last liquidation was $1.42. As most of you know, I rarely hold options into their expiration since they carry no premium and they move penny for penny on any pullbacks. I don't think that the move is over, but a nearly 10% move in the futures into resistance at around $17.75-80 (with the close of $17.33) generally doesn't occur without a pullback or consolidation. I'm also concerned about the shift in polls about "Brexit" and the effect that we'll see in the dollar. Clearly a strong US$ is bad for not only the metals, but rather anything denominated in US$ and traded internationally.
The A.A.I.I. sentiment is really worrisome to me, not because it is out of line in one direction or the other, but rather because the bulls and bears are exactly the same at 27.8%, both below long term averages and the neutral is 44.3% and is almost 50% above the average. While that might not look like much of a problem, any event in the political or geopolitical world can turn the market decidedly as all those sitting on the sidelines pile in to either bull or bear camp. At this time of the year we have some of the lowest volume days and greatest volatility that low volume brings along with it. The summer is especially notorious for exaggerated moves while many are vacationing, either in the Hamptons or otherwise occupied.
If this market is turning down from these lofty levels it can get very ugly very fast. The same can be said for upside surprises. Clearly the upside faces headwinds from some of the age-old measures. Three quarters of down (overall) earnings, even though they beat "lowered expectations" is a problem. Europe is a problem and China and Japan are problems. Since candidate Trump hasn't been elected and turned us isolationist, and candidate Clinton hasn't had the opportunity to follow the Obama "inaction model" we sit in limbo on trade and economics.
That leaves us without any real direction right under the all-time highs in the S&P500.
A break of 2085 and then a close below the breakout of 2075 on May 24th would signal at test of 2050. For this reason we added some balance with the SPY 6/209 puts. On a cash flow basis for trading purposes we made just over $600 last week and we used only $492 for the SPY position…..CAM
All trades were based on your participation in the texting service to receive updates. Previous closed out trades not listed here may be seen in previous market letters.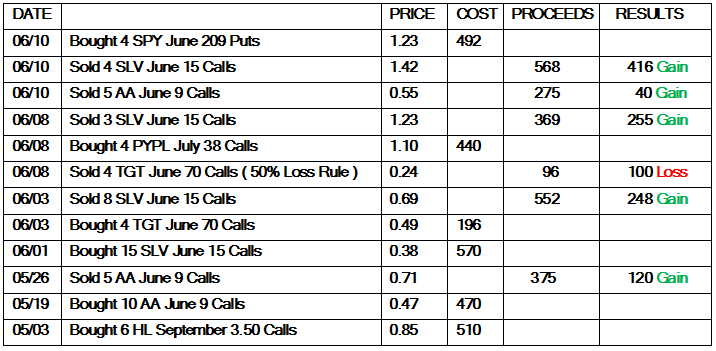 New trades $ 10,000 account...In Texting we have a limited amount of words. In the interest of brevity: OPTIONS ONLY: 1 January , 2 February. The Quantity and Strike Price for each trade is specific. Trading is hypothetical. We may trade weekly options and they are noted: SPY 1/25 147 for SPY Jan 25th 147 Calls or Puts.For questions please call 702 650 3000. Closed out positions are found in previous letters dating back four years: June 6th; May30th; 23rd;16th;9th;2nd; April 25th;18th;11th;4th; March 28th;21st;14th;7th; Feb 29th22nd; 15th; 8th; 1st;Jan 25th; 18th; 11th; 4th
3rd Week expiration When the month is listed without a date
New Trades Options Account:
( 1 ) Buy 4 HOG July 45 Puts @ $ 1.20
( 2 ) Buy 6 SUN July 30 Calls @ $ 0.65

NEW Trades $ 100,000 account :
( 1 ) Buy 8 HOG July 45 Puts @ $ 1.20
( 2 ) Buy 12 SUN July 30 Calls @ $ 0.65

Contact:
Mike King
Princeton Research
3887 Pacific Street, Las Vegas, Nevada 89121
Or:
Charles Moskowitz
CAM@MoneyInfo-LLC.com
781 826 8882
Phone: (702) 650-3000
Fax: (702) 697-8944
mike@princetonresearch.com or cam@princetonresearch.com
Visit: www.princetonresearch.com
Disclaimer*
Princeton is paid $ 1,500 per month from RMS Medical Products. The SITS contract calls for $ 1,500 per month. Princeton had been engaged by Target Energy. No contract is currently in place. . Princeton is paid $ 2500 per month by Immune Therapeutics. Princeton was paid about 300,000 restricted shares of Leo Motors. Princeton is paid $ 2,500 per month for International Star. Princeton is paid $ 2,500 from International Sustainability and is due $ 5,000 per month. Pursuant to the provisions of Rule 206 (4) of the Investment Advisers Act of 1940, readers should recognize that not all recommendations made in the future will be profitable or will equal the performance of any recommendations referred to in this Email issue. Princeton may buy or sell its free-trading shares in companies it represents at any time.
**
Crown Equity Holdings Inc. has received $1,000 dollars for the publication of Princeton Research, Inc.'s Weekly Market Strategies within the CRWE World network for 12 months