Covering High return Balanced Investing Strategies To
Make Money In Up Or Down Markets
A Publication of Princeton Research, Inc. (www.PrincetonResearch.com)
Contributing Staff: Michael King, Charles Moskowitz

June 19, 2016
Charles Moskowitz Discussion
Are Authority Figures Always Right ???

Week 24 was a gain of $484 bringing YTD performance comfortably above the 50% mark to $5757. Funds in use are $2548 supporting 5 open positions as noted above. We took some small gains in AA, as the market looked week on Wednesday near the close and put them back on during the Thursday morning selloff once it started to recover. While these might look like trades that we could have weathered, I didn't know that Wednesday. We had paid $ .68 for the AA calls and sold them @ $ .79, to buy them back @ $ .63. It might not seem like a lot to gain, but my concern was that AA would fall further and test the recent lows around $8.78-9.00. At that point we would have been at or very near the 50% Down Rule level and would had to be a seller. As it turned out, it was a 25% gain followed by the repurchase and a Friday close of $ .83, a 32% gain. As Bernard Baruch said, "You never go wrong taking a profit."
What do we really think about the FOMC non-move and statement? Well, I think that we should all ignore it. My point is that they have missed the opportunity to raise rates when they could (and should) have back when we had job growth of 250,000 a month way back when. The case in point is Alan Greenspan. He served as Fed Chairman from 1987 to 2006. Greenspan came to the Federal Reserve Board from a consulting career. Although he was subdued in his public appearances, favorable media coverage raised his profile to a point that several observers likened him to a "rock star". While he warned us about "irrational exuberance" in December 1996, the level of the S&P500 went from the 730 level, and by the time he was right, that broad market index was as high as 1,550. After leaving the position and seeing the Dot Com bubble and then the housing debacle he was asked why he had kept interest rate so low for such a long time, his response was "I didn't think it would be this bad." Another one is Barney Frank, whose name is attached to his "landmark bill," Dodd-Frank. It raised both the capital requirements and compliance costs for the banking industry dramatically. While he talks about what important legislation this is to protect the average citizen against the banking behemoths, it has forced hundreds of community banks out of business.
The problem is that we take the words of these authority figures too much to heart. When you go into your doctor's office and the man (or woman) comes in in their white coat and gives you advice, they have spent 8 or 10 years being educated and tested in their specialty. Their advice has been tested, you can count on it. Politicians have none of that specialized training, and they want to "leave their mark" for posterity. This causes them to delve into areas that they see have problems but they just don't have the expertise to see the unintended consequences of their actions. They also focus on the events past, not the new problems that will arise. I believe that their actions are well intentioned, but they really haven't got a clue.
Bernie Madoff is a good example. All of the reporting requirements and all of the Sarbanes-Oxley rules were put into place, but you can't stop a fraud that involves outright lying, much as you can't stop terrorism without having the imagination for things not yet tried.
We all know when things aren't great. We all see when food and gas prices hurt our pocketbooks and we certainly know that Social Security won't cover our expenses even if we can retire. These are the issues we need to follow, certainly not the untrained bureaucrats telling us how to protect ourselves…CAM
All trades were based on your participation in the texting service to receive updates. Previous closed out trades not listed here may be seen in previous market letters.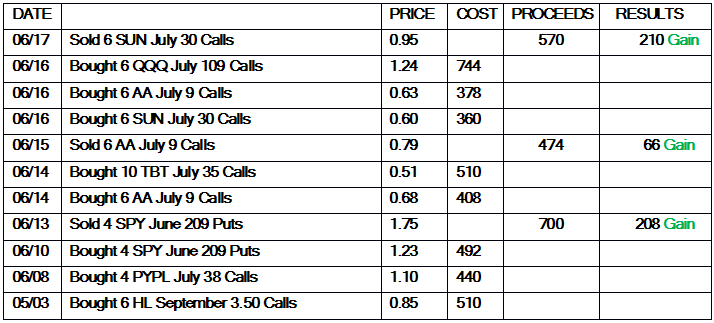 New trades $ 10,000 account...In Texting we have a limited amount of words. In the interest of brevity: OPTIONS ONLY: 1 January , 2 February. The Quantity and Strike Price for each trade is specific. Trading is hypothetical. We may trade weekly options and they are noted: SPY 1/25 147 for SPY Jan 25th 147 Calls or Puts.For questions please call 702 650 3000. Closed out positions are found in previous letters dating back four years: June 13th:6th; May30th; 23rd;16th;9th;2nd; April 25th;18th;11th;4th; March 28th;21st;14th;7th; Feb 29th22nd; 15th; 8th; 1st;Jan 25th; 18th; 11th; 4th

Contact:
Mike King
Princeton Research
3887 Pacific Street, Las Vegas, Nevada 89121
Or:
Charles Moskowitz
CAM@MoneyInfo-LLC.com
781 826 8882
Phone: (702) 650-3000
Fax: (702) 697-8944
mike@princetonresearch.com or cam@princetonresearch.com
Visit: www.princetonresearch.com
Disclaimer*
Princeton is paid $ 1,500 per month from RMS Medical Products. The SITS contract calls for $ 1,500 per month. Princeton had been engaged by Target Energy. No contract is currently in place. . Princeton is paid $ 2500 per month by Immune Therapeutics. Princeton was paid about 300,000 restricted shares of Leo Motors. Princeton is paid $ 2,500 per month for International Star. Princeton is paid $ 2,500 from International Sustainability and is due $ 5,000 per month. Pursuant to the provisions of Rule 206 (4) of the Investment Advisers Act of 1940, readers should recognize that not all recommendations made in the future will be profitable or will equal the performance of any recommendations referred to in this Email issue. Princeton may buy or sell its free-trading shares in companies it represents at any time.
**
Crown Equity Holdings Inc. has received $1,000 dollars for the publication of Princeton Research, Inc.'s Weekly Market Strategies within the CRWE World network for 12 months