Covering High return Balanced Investing Strategies To
Make Money In Up Or Down Markets
A Publication of Princeton Research, Inc. (www.PrincetonResearch.com)
Contributing Staff: Michael King, Charles Moskowitz

June 26, 2016
Charles Moskowitz Discussion
Week 25 was exciting, to say the least. We had a profit of $610 bringing up YTD gains to a new high for the year of $6367. Since I was concerned about the Brexit vote, I got out of almost all positions (a day early as usual) and kept only the metals related positions in SLV and HL calls and we had a small "balance" position in the SPY puts.
The strategy worked well, and I sold the SPYs shortly after the open for a 50% profit and the SLV calls for about the same. We went into the weekend with only the HL and AA calls. We actually replaced the AA calls @ $ .86 after selling them on Wednesday @ $1.08 and $1.26.
I sent out a midweek note that handicapped the situation and a Silver chart but I still think a reminder is appropriate; the vote was a referendum and as such non-binding. So, while the public has spoken it is now up to the British Parliament to take up the issue. So, why all the falling markets ? The answer is simple, just look at the currencies. While most people judge what's going on via the stock markets, the Forex (currency) markets are dramatically more important. So, as the currencies go the market follows. Imagine the loss of buying power if you get paid in British Pounds while they decline in value from over $1.50 to under $1.40. The size of the FOREX markets dwarf the stock markets.
While the current EU countries may say that they will not trade with Great Britain it is still a powerhouse country and with a de facto devaluation their products just got cheaper; and as we all know, the opportunity to buy cheaper will always win out over ideologies. It may take a little while, but human nature will always win out.
There are no new trades tonight since I want to see a little more stability to define the risks…..CAM

All trades were based on your participation in the texting service to receive updates. Previous closed out trades not listed here may be seen in previous market letters.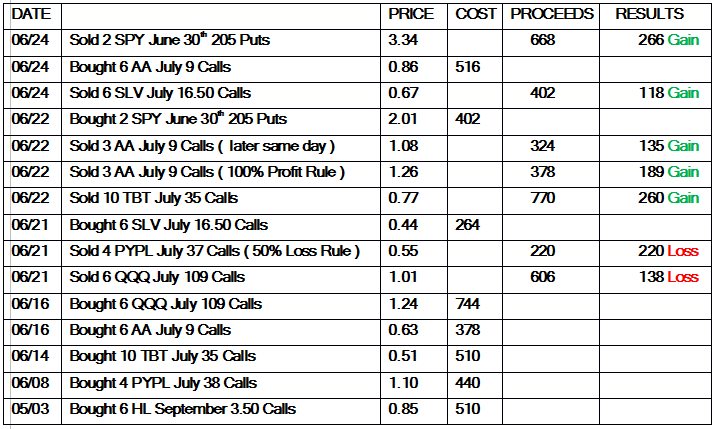 New trades $ 10,000 account...In Texting we have a limited amount of words. In the interest of brevity: OPTIONS ONLY: 1 January , 2 February. The Quantity and Strike Price for each trade is specific. Trading is hypothetical. We may trade weekly options and they are noted: SPY 1/25 147 for SPY Jan 25th 147 Calls or Puts.For questions please call 702 650 3000. Closed out positions are found in previous letters dating back four years: June 13th:6th; May30th; 23rd;16th;9th;2nd; April 25th;18th;11th;4th; March 28th;21st;14th;7th; Feb 29th22nd; 15th; 8th; 1st;Jan 25th; 18th; 11th; 4th

Contact:
Mike King
Princeton Research
3887 Pacific Street, Las Vegas, Nevada 89121
Or:
Charles Moskowitz
CAM@MoneyInfo-LLC.com
781 826 8882
Phone: (702) 650-3000
Fax: (702) 697-8944
mike@princetonresearch.com or cam@princetonresearch.com
Visit: www.princetonresearch.com
Disclaimer*
Princeton is paid $ 1,500 per month from RMS Medical Products. The SITS contract calls for $ 1,500 per month. Princeton had been engaged by Target Energy. No contract is currently in place. . Princeton is paid $ 2500 per month by Immune Therapeutics. Princeton was paid about 300,000 restricted shares of Leo Motors. Princeton is paid $ 2,500 per month for International Star. Princeton is paid $ 2,500 from International Sustainability and is due $ 5,000 per month. Pursuant to the provisions of Rule 206 (4) of the Investment Advisers Act of 1940, readers should recognize that not all recommendations made in the future will be profitable or will equal the performance of any recommendations referred to in this Email issue. Princeton may buy or sell its free-trading shares in companies it represents at any time.
**
Crown Equity Holdings Inc. has received $1,000 dollars for the publication of Princeton Research, Inc.'s Weekly Market Strategies within the CRWE World network for 12 months