Covering High return Balanced Investing Strategies To
Make Money In Up Or Down Markets
A Publication of Princeton Research, Inc. (www.PrincetonResearch.com)
Contributing Staff: Michael King, Charles Moskowitz

July 17, 2016
Charles Moskowitz Discussion
ARE THEY BEGGING US TO BE COMPLACENT??
Week 28 had a nice profit considering that we had to give up our position in AA due to expiration. I'll be looking for any pull back to rebuy the option. We still own the stock in the $100,000 account so it didn't hurt too much. We had a gain of $584 bringing YTD gains to a new high at $6,921. We have two new positions this week, a long in HOG calls and QQQ puts. The first has had some takeover talk and while that is never a good reason alone to buy a stock, it has had some decent basing action over the past 4 months, and is sitting on its 13 day moving average. Earnings (7/28) are far enough in the future to see what develops on the technical action.
The other new position is the QQQ (NASDAQ 100) puts. This is a "balance position" based on the fact that the market is statistically overbought, over extended, and reaching levels that without some real growth are unsustainable.
The spread historical between equity yields and the 30 year US Treasury bond which is normally 380 basis point is now running at almost the same rates.*
*BCA Special report
The extraordinarily low rates are clearly being caused by two actions; the continued purchase of our "safe haven" status treasuries by everyone in the world, and the fact that while you are almost guaranteed to lose principal in the bonds up here, you are hedging yourself against another negative shock in the future. It's sort of like the "greater fool theory" of buying stocks that are expensive because you think someone else will buy then higher…only in reverse. This NEVER ends well.
This is causing everyone, the elderly, the bankers, the "long only" income funds and the banks to chase yield by accepting more risk. It has happened too many times to ignore, and as I said, it never ends well for anyone.
I still stand by the rationale that I posted Thursday in our new daily update:
Further statistical basis for some balanced positions are the following statistics; 60% of the S&P500 are yielding more than the 10yr US Treasuries (a point at which we generally see a reversal, and 82% of those same stocks are above their 50 day moving averages, also in historic high ground. These 2 statistics and the fact that we have come well over 1300 Dow points and over 150 S&P500 points makes me think we have a tradable pullback. For that reason I've taken a few profits and completed the spreads noted above and am looking not for specific "point" moves, but rather I am going to issue sell stops for reversals.
As I've said many times before, the whole fundamental picture does not generally change as quickly as market psychology, but the fastest way to stop the market in its tracks is geopolitical problems. Everyone knew that Turkey was in trouble and in a troubled area, but nobody knew when it would erupt. So, not exactly a "Black Swan" event maybe a little dark grey…It's not over and will flare again and hopefully you won't just be holding your breath, and you'll have some balance.
As I wrote in the Thursday Daily Note, I thought I believe that there is a good chance of a tradable "counter trend" move to the downside, and we took action that added some balance for protection.
I then spent 8-10 hours looking through charts and while I still believe that to be true I did notice an interesting comparison for the "set-up" for a long term sustainable Bull market. It's not easy to see since it is very long term but by manipulating my charts to the monthly timeframe and then zooming in to weekly and daily terms it is remarkably evident.
So, here's the comparison…During the 17 years of 1966 to 1983 the Dow was traded in a range bound by roughly 1,000 on the upside and 600 on the downside. When it broke out it then ran 170% to 2700, had a 40% slide to 1600 (1987 "portfolio insurance) and then continued for another 11 years to 11,500. The next pull back, DOTCOM related lasted (2001-2002) was 38% to 7,200 followed by a 5 year move to 14,200. Next came the subprime crisis and the low of 6,500 a 54% drop, again followed by another 176% move.
The point of all of this technical work shows that REAL long term bull markets have sharp, severe slides all the time and some even happen right before the breakout to new all-time highs. So, fundamentally we have several quarters of easily beaten earnings comparisons, a sharp correction is not out of the question, hence balance and protection. I relate to the VIX (protection) the same way as the bookies related to the chance of a Leave vote on the Brexit….They were offering such long odds that they were begging you to bet that way. The VIX is so depressed that the investing public is so complacent they are saying you don't need protection or balance. Almost like the college football when they'll give you 35 points to take the underdog…who then loses by 50.
Again, I still think that we can again head higher and if we have a couple of good quarterly earnings reports, much higher but the trees don't grow to the sky..CAM

All trades were based on your participation in the texting service to receive updates. Previous closed out trades not listed here may be seen in previous market letters.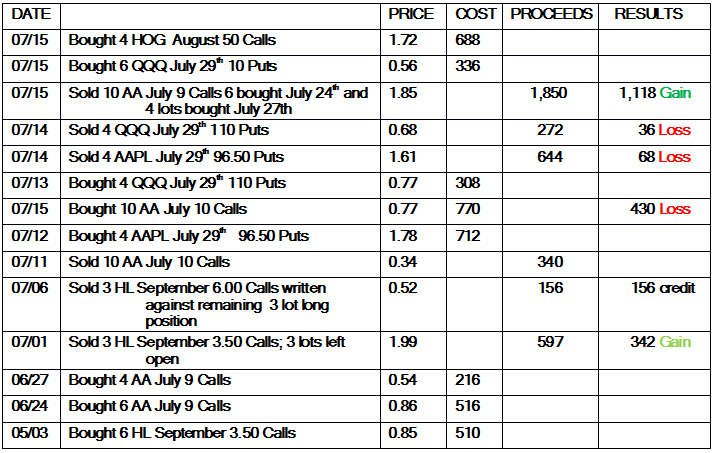 New trades $ 10,000 account...In Texting we have a limited amount of words. In the interest of brevity: OPTIONS ONLY: 1 January , 2 February. The Quantity and Strike Price for each trade is specific. Trading is hypothetical. We may trade weekly options and they are noted: SPY 1/25 147 for SPY Jan 25th 147 Calls or Puts.For questions please call 702 650 3000. Closed out positions are found in previous letters dating back five years: July 11th;4th;June 27th;20th;13th:6th; May30th; 23rd;16th;9th;2nd; April 25th;18th;11th;4th; March 28th;21st;14th;7th; Feb 29th22nd; 15th; 8th; 1st
3rd Week expiration When the month is listed without a date
New Trades Options Account:
( 1 ) Buy 6 CL August 72.50 Puts @ $ 0.75
NEW Trades $ 100,000 account :
( 1 ) Buy 12 CL August 72.50 Puts @ $ 0.75

Contact:
Mike King
Princeton Research
3887 Pacific Street, Las Vegas, Nevada 89121
Or:
Charles Moskowitz
CAM@MoneyInfo-LLC.com
781 826 8882
Phone: (702) 650-3000
Fax: (702) 697-8944
mike@princetonresearch.com or cam@princetonresearch.com
Visit: www.princetonresearch.com
Disclaimer*
Princeton is paid $ 1,500 per month from RMS Medical Products. The SITS contract calls for $ 1,500 per month. Princeton had been engaged by Target Energy. No contract is currently in place. . Princeton is paid $ 2500 per month by Immune Therapeutics. Princeton was paid about 300,000 restricted shares of Leo Motors. Princeton is paid $ 2,500 per month for International Star. Princeton is paid $ 2,500 from International Sustainability and is due $ 5,000 per month. Pursuant to the provisions of Rule 206 (4) of the Investment Advisers Act of 1940, readers should recognize that not all recommendations made in the future will be profitable or will equal the performance of any recommendations referred to in this Email issue. Princeton may buy or sell its free-trading shares in companies it represents at any time.
**
Crown Equity Holdings Inc. has received $1,000 dollars for the publication of Princeton Research, Inc.'s Weekly Market Strategies within the CRWE World network for 12 months