Covering High return Balanced Investing Strategies To
Make Money In Up Or Down Markets
A Publication of Princeton Research, Inc. (www.PrincetonResearch.com)
Contributing Staff: Michael King, Charles Moskowitz

July 24, 2016
Charles Moskowitz Discussion
Week 29 was another grinder to the upside. We had another small gain of $216 bringing YTD gains over 70% ($7,137) and are using only $399 to carry our current positions.
Usually when I'm ready to change my opinion about market direction I'm either early or outright wrong, but be that as it may, I have been very impressed with the markets action. It has managed to consolidate and inch higher all the while trading OVER the old highs set 10 days ago. From my perspective, that illustrates a great show of strength for any chart. Add to that price action the A.A.I.I. sentiment numbers that are still over 64% either neutral or bearish. The bullish number was slightly lower and still 10% under its long term average…at ALL-TIME NEW HIGHS in the S&P500, the more broadly based index.
On the comments from talking heads about the low volume I would remind them that it's summer, time of the summer rally and always on lower volume. To me it says something entirely different; usually as a market works higher, especially to new highs it generally takes much MORE volume to move stocks higher. The best examples of this are the big and mega market cap stocks. It takes an awful lot of buying interest (volume) to move these:
| | | | |
| --- | --- | --- | --- |
| SYMBOL | MARKET CAP | YTD | Last 12 MONTHS |
| MSFT | $441B | 1.38% | 24.2% |
| AMZN | $351B | 52.55% | 52.6% |
| JNJ | $346B | 24.85% | 24.6% |
| GE | $294B | 20.39% | 20.4% |
| WMT | $229B | 16% | 0.53% |
These are monumental moves that took large volume to move them, and by the way, all were down dramatically (except WMT) in the first quarter of the year. And while JNJ, WMT, and MSFT are heavily defensive with high yields, the same cannot be said about AMZN. Also, these are DOW stocks and were the easiest to research. Takeovers and IPOs have not even been mentioned.
I believe that in the short term we will have a tradeable pullback and that better U.S. earnings would certainly be a help, but the published comments coming out of the G20 meeting are calling for even more stimulus to help the European countries. Unless we were to participate here too, the US$ would strengthen as Mike mentions later in this letter) and hurt both our competitive standing and our stock market. It would help inflation and force the prices of oil and gold higher. The problem is that it's putting a Band-Aid on a cut that requires stitches…CAM
All trades were based on your participation in the texting service to receive updates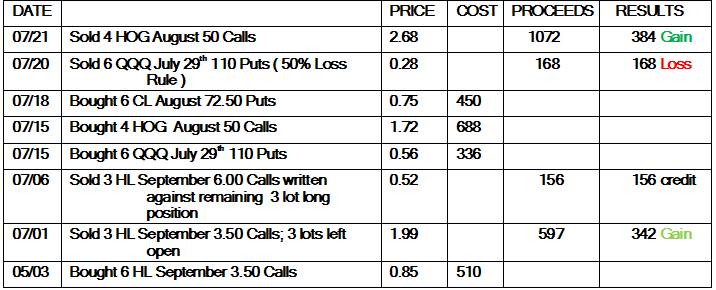 New trades $ 10,000 account...In Texting we have a limited amount of words. In the interest of brevity: OPTIONS ONLY: 1 January , 2 February. The Quantity and Strike Price for each trade is specific. Trading is hypothetical. For questions please call 702 650 3000.
3rd Week expiration When the month is listed without a date
New Trades Options Account:
( 1 ) Buy 10 AA August 10.50 Calls @ $ 0.36
( 2 ) Buy 4 GLD August 125.50 Puts @ $ 1.54
( 3 ) Buy 6 FAST August 42 Calls @ $ 1.00
NEW Trades $ 100,000 account :
( 1 ) Buy 20 AA August 10.50 Calls @ $ 0.36
( 2 ) Buy 8 GLD August 125.50 PUTS @ $ 1.54
( 3 ) Buy 12 FAST August 42 Calls @ $ 1.00

Contact:
Mike King
Princeton Research
3887 Pacific Street, Las Vegas, Nevada 89121
Or:
Charles Moskowitz
CAM@MoneyInfo-LLC.com
781 826 8882
Phone: (702) 650-3000
Fax: (702) 697-8944
mike@princetonresearch.com or cam@princetonresearch.com
Visit: www.princetonresearch.com
Disclaimer*
Princeton is paid $ 1,500 per month from RMS Medical Products. The SITS contract calls for $ 1,500 per month. Princeton had been engaged by Target Energy. No contract is currently in place. . Princeton is paid $ 2500 per month by Immune Therapeutics. Princeton was paid about 300,000 restricted shares of Leo Motors. Princeton is paid $ 2,500 per month for International Star. Princeton is paid $ 2,500 from International Sustainability and is due $ 5,000 per month. Pursuant to the provisions of Rule 206 (4) of the Investment Advisers Act of 1940, readers should recognize that not all recommendations made in the future will be profitable or will equal the performance of any recommendations referred to in this Email issue. Princeton may buy or sell its free-trading shares in companies it represents at any time.
**
Crown Equity Holdings Inc. has received $1,000 dollars for the publication of Princeton Research, Inc.'s Weekly Market Strategies within the CRWE World network for 12 months