Covering High return Balanced Investing Strategies To
Make Money In Up Or Down Markets
A Publication of Princeton Research, Inc. (www.PrincetonResearch.com)
Contributing Staff: Michael King, Charles Moskowitz

August 07, 2016
Charles Moskowitz Discussion
Good News was Good News
Week 31 was a disappointment with a loss of $474 bringing the YTD performance coming back in to $6,713. WTW was the biggest loss with a 50% rule and a gap down based on the earnings miss. We also had a loss in the QQQ puts, but that was a "balance" trade, and after the run up of late, was for protection against the possible downside. I am very confident in the current trades in HL, AA, and FAST. The AAPL puts are a low risk counter-trade. The HL position has no cost (in fact it has a realized gain on the first half and a credit of $87) and a value of an additional $750. AA is back at important support and we've take big profits out of the name this year. My favorite long position is the FAST. It has been a laggard since February but has been sold down to the level of its last breakout and it looks like if it can move over $43.45 it can head back towards $45-47.
Funds in use are only $1,473.

Friday morning's employment numbers were good news for the bulls and the market was up right from the start. It spent all day slowly grinding higher. After the last test of the breakout in Tuesday's decline, we closed at the highs and had 2 days of neither much higher nor lower, but with the advance/declines and volume to the positive we were set up for the rally.

The political climate remains unchanged so there seems to be nothing much to glean from the day to day BS that both candidates sling at each other. The Sunday morning show really had nothing to add. This is truly a contest of "who is the least worse." The market sentiment number continues to confound. Both bullish and bearish were lower this week with the bulls still 30% under its average, bears about 10% under and neutral an astounding 43% above its average.
As long as we stay above the breakout level of the S&P500 (2125) the more likely we go higher. While there are several of the biggest and oldest names on the market calling for a sharp selloff, I'll fall back on the fact that I'll take 500 amateurs over 4 or 5 "professionals" almost anytime, and frankly, the pros have been wrong for over 100 S&P500 points.

I will continue to make counter-trend plays like the AAPL puts and keep my position in the SPXU to balance the risk of any news or Black Swan event for balance. CAM
All trades were based on your participation in the texting service to receive updates.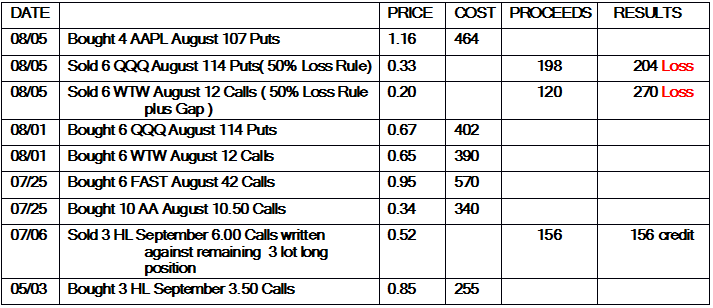 New trades $ 10,000 account...In Texting we have a limited amount of words. In the interest of brevity: OPTIONS ONLY: 1 January , 2 February. The Quantity and Strike Price for each trade is specific. Trading is hypothetical. For questions please call 702 650 3000.
3rd Week expiration When the month is listed without a date
New Trades Options Account:
( 1 ) Buy 4 GLD August $ 126 Calls @ $ 1.68
NEW Trades $ 100,000 account :
( 1 ) Buy 8 GLD August $ 126 Calls @ $ 1.68

Contact:
Mike King
Princeton Research
3887 Pacific Street, Las Vegas, Nevada 89121
Or:
Charles Moskowitz
CAM@MoneyInfo-LLC.com
781 826 8882
Phone: (702) 650-3000
Fax: (702) 697-8944
mike@princetonresearch.com or cam@princetonresearch.com
Visit: www.princetonresearch.com
Disclaimer*
Princeton is paid $ 1,500 per month from RMS Medical Products. The SITS contract calls for $ 1,500 per month. Princeton had been engaged by Target Energy. No contract is currently in place. . Princeton is paid $ 2500 per month by Immune Therapeutics. Princeton was paid about 300,000 restricted shares of Leo Motors. Princeton is paid $ 2,500 per month for International Star. Princeton is paid $ 2,500 from International Sustainability and is due $ 5,000 per month. Pursuant to the provisions of Rule 206 (4) of the Investment Advisers Act of 1940, readers should recognize that not all recommendations made in the future will be profitable or will equal the performance of any recommendations referred to in this Email issue. Princeton may buy or sell its free-trading shares in companies it represents at any time.
**
Crown Equity Holdings Inc. has received $1,000 dollars for the publication of Princeton Research, Inc.'s Weekly Market Strategies within the CRWE World network for 12 months