Covering High return Balanced Investing Strategies To
Make Money In Up Or Down Markets
A Publication of Princeton Research, Inc. (www.PrincetonResearch.com)
Contributing Staff: Michael King, Charles Moskowitz

August 21, 2016
Charles Moskowitz Discussion
Week 33 produced a small gain of $231 bringing the YTD gains to $6646. The HL spreads remain the same with a value of $250 per spread. We are back on the short side in the SIG, which has proven profitable the last several times we have traded it. Funds in use are $1,067. Our trades in FAST worked out well and I am looking at it again to get back into the stock.
The market internals continue to be more positive than expected, and the major indexes continue to consolidate gains above the breakout from last month. For a month with a bad reputation, August seems to just roll along. The VXX and UVXY seem to want to move higher but can't seem to have more than a short rally for a day or two and then the gains seem to melt away. These indexes are not for long term positions since they have a downward bias. They measure the volatility moves on a daily basis but unless you have several consecutive days of movement in one direction they are not for the weak of heart.
As to the futures markets, the oil has had a monumental rise for 7 trading days taking it from $40 to $49 or plus 22%. This is dramatic and over extended and I will be adding to the position in the SCO (leveraged downside ETF) using the texting service. The gold market is not so positive right now as it is testing the lower end of its trading range. I would take a position against the lows, but a close under $1,336 would break it to test the area around $1,320.
The one area that has been indisputable on the "stocks" in this market is the missing of either earnings, or revenue or forward guidance. This week's disaster was HAIN. Hain Celestial Group had moved from its lows in January @ $33 to march up to its new highs last Friday (8/12) over $56. However, when they came out on Tuesday with a statement; that they would have to delay the filing of their 10Q on time due to some questions about accounting and channel "stuffing." The stock fell 40% overnight back to the high $30s. The point is that this market is priced for perfection and anything less is punished without mercy. While many investors think they can hide in some of the defensive, dividend paying stocks, they too need be wary. One look at what happened earlier this month in one of those stocks, BMY, on the failure of a clinical trial sent the stock down from $75 to $60. The $1.52 dividend doesn't take much of the sting out of a 20% decline, and waiting 10 years to be even is not what most investors are looking for when it comes to safety…CAM
All trades were based on your participation in the texting service to receive updates.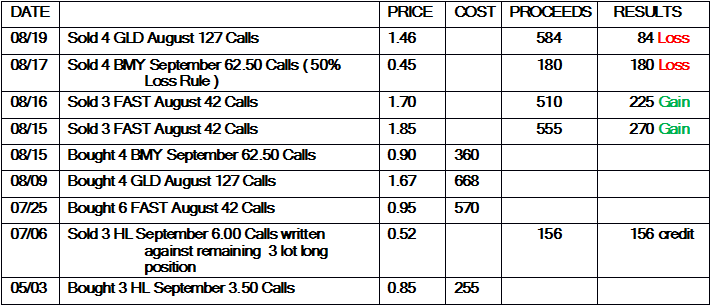 New trades $ 10,000 account...In Texting we have a limited amount of words. In the interest of brevity: OPTIONS ONLY: 1 January , 2 February. The Quantity and Strike Price for each trade is specific. Trading is hypothetical. For questions please call 702 650 3000.

Contact:
Mike King
Princeton Research
3887 Pacific Street, Las Vegas, Nevada 89121
Or:
Charles Moskowitz
CAM@MoneyInfo-LLC.com
781 826 8882
Phone: (702) 650-3000
Fax: (702) 697-8944
mike@princetonresearch.com or cam@princetonresearch.com
Visit: www.princetonresearch.com
Disclaimer*
Princeton is paid $ 1,500 per month from RMS Medical Products. The SITS contract calls for $ 1,500 per month. Princeton had been engaged by Target Energy. No contract is currently in place. . Princeton is paid $ 2500 per month by Immune Therapeutics. Princeton was paid about 300,000 restricted shares of Leo Motors. Princeton is paid $ 2,500 per month for International Star. Princeton is paid $ 2,500 from International Sustainability and is due $ 5,000 per month. Pursuant to the provisions of Rule 206 (4) of the Investment Advisers Act of 1940, readers should recognize that not all recommendations made in the future will be profitable or will equal the performance of any recommendations referred to in this Email issue. Princeton may buy or sell its free-trading shares in companies it represents at any time.
**
Crown Equity Holdings Inc. has received $1,000 dollars for the publication of Princeton Research, Inc.'s Weekly Market Strategies within the CRWE World network for 12 months