CalAmp Corp. (CAMP)
Shares of CAMP climbed more than 10% in after-hours trading Thursday as the company delivered outstanding quarterly financial results with revenue and profit numbers above Wall Street analysts' expectations
For its second quarter fiscal 2016, CAMPposted record revenue of $69.8 million, a 17.9% increase year over year, and non-GAAP net income of $9.8 million, or $0.27 per diluted share, compared to non-GAAP earnings of $7.5 million, or $0.21 per diluted share in the same quarter the prior year, topping the Capital IQ Consensus Estimate of $0.26 earnings per share on revenues of $68.06 million for the period
CAMPexpects to achieve third quarter fiscal 2016 consolidated revenue in the range of $71 to $76 million.
CAMP is a proven leader in providing wireless communications solutions to a broad array of vertical market applications and customers.
More about CalAmp Corp. (CAMP) atwww.calamp.com.
**
Crown Equity Holdings Inc. (CRWE)
The company is currently developing its CRWE WORLD ( www.crweworld.com ), a community targeted platform which goal is to be a one-stop shop for the various needs of online consumers in a range of marketing specialties like Real Estate, Coupons & Deals, Business Directory and more
CRWE WORLD's business model is based on selling advertising to businesses targeting their marketing message locally, nationally, internationally and also to target potential clients for an specific location, such as within a certain zip code.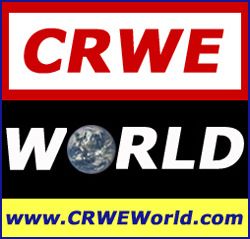 CRWE provides marketing solutions that boost customer awareness and merchant visibility on the Internet.
More about Crown Equity Holdings Inc. (CRWE) atwww.crownequityholdings.com
**

Micron Technology, Inc. (MU)
After the closing bell on Thursday, MU reported stronger-than-expected quarterly revenue and profit in its financial results.
For its fourth quarter fiscal 2015, MU posted revenues of $3.60 billion and non-GAAP net income of $399 million, or $0.37 per diluted share, surpassing the Capital IQ Consensus Estimate of $0.32 earnings per share on revenues of $3.56 billion for the period. MUended the fourth quarter with cash and marketable investments of $5.63 billion
While MU's fourth quarter results were impacted by continued weakness in the PC sector, the company believes that memory industry fundamentals remain favorable over the long term.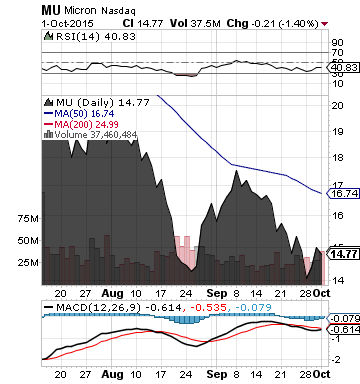 MU is a global leader in advanced semiconductor systems.
More about Micron Technology, Inc. (MU) atwww.micron.com.
**

Coherus BioSciences, Inc. (CHRS)
CHRS reported the results from its pharmacokinetic and pharmacodynamic (PK/PD) clinical study of CHS-1701, a pegfilgrastim (Neulasta(R)) biosimilar candidate.
According to CHRS, this study met its primary PD endpoints of absolute neutrophil count (ANC). In terms of PK parameters, the study also met bioequivalence for Cmax. The Area Under the Curve (AUC) portion of the PK results are still under review.
CHRSsaid that it shared the topline results with the FDA including the anomalous Neulasta Period 1 AUC profile. Based on this topline data, the FDA has not recommended initiating a repeat of this study
CHRSbelieves the overall positive results of this study, together with the immunogenicity study which has recently completed enrollment, support the company's plan to submit the 351(k) BLA in the first quarter of 2016, consistent with its previous guidance
Shares of CHRS surged over 6% in the extended session Thursday, following the announcement.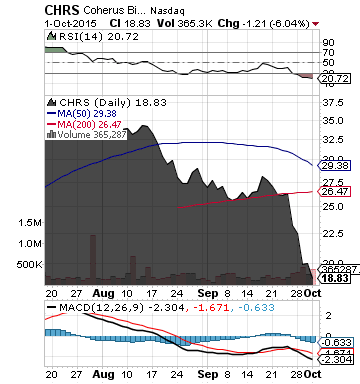 CHRSis a pure-play biosimilar platform company that develops and commercializes high-quality therapeutics for major regulated markets.
More about Coherus BioSciences, Inc. (CHRS) atwww.coherus.com.
**
Disclaimer: The disclaimer is to be read and fully understood before using our site, or joining our email list. CRWE PR Finance is not a registered investment adviser. This material is for informational purposes only and should not be construed as an offer or solicitation of an offer to buy or sell securities. Investors should always conduct their own due diligence with any potential investment, with independent research and other professional advice. Read full disclaimer at http://finance.crwe-pr.com/disclaimer/