Covering High return Balanced Investing Strategies To
Make Money In Up Or Down Markets
A Publication of Princeton Research, Inc. (www.PrincetonResearch.com)
Contributing Staff: Michael King, Charles Moskowitz

September 04, 2016
Charles Moskowitz Discussion
FINALLY GOT THE GOLD CALLS
Week 35 wasn't the greatest on realized gains /losses as we had a loss of $364 dropping the YTD gains to $6,502. However, I've been trying to buy back into the GLD calls since a couple of days since it failed several times in the last 3-4 weeks. We were in gold, HL and the SLV calls and got out quite profitably back in July. Since then we had a few truly minor losses in the GLD, but wrote calls against our longer term HL call position. A reminder, we are in a $2.50 spread that we've already taken out the costs PLUS some.
Anyway, I've been following the gold futures and the GLD (ETF) down in the Daily Notes and texts but just could not get us back into the position at what I thought was a decent, low risk price. Tuesday and Wednesday's low were around the $125 area and we were fortunate to have the metal down when we opened in NY and we got the calls exactly where our limit order was entered the night before on the texting service. Then came the ugly ISM, auto sales, and a couple of retail surprises, and everyone started to feel a bit less comfortable about a rate hike this coming week.
This chart shows that we bought the calls right below the Bollinger Bands with both OBV and more importantly momentum clearly turning higher. If we do not break below the lows at $1,301, we can rally back to $1,350-55 without much trouble. That would equate to roughly $128-128.50. Plenty of profit for 9/126 calls bought @ $ .97.
The other new position is the AAPL 9/108 calls bought @ $1.01. The stock has been selling off on the EU news and the insider liquidation. The liquidation doesn't bother me at all since 95% of insiders have preplanned and preapproved selling programs in place. The EU is another issue entirely. It is unadulterated BS. Even Ireland stands by the deal it made with AAPL years ago. A country with only 4.5 million people that can make a deal to create 5000 jobs certainly deserves whatever breaks were given. That's the other part of the deal, The deal took place in 1991, and its retroactive to the inception. The only other example of this type of action is the US government going after JPM and BAC because the Fed asked them to do these deals and the made them liable for all the past misdeeds they got those (Bear Stearns, JPM, Countywide credit). Let's hope that Ireland and Tim Cook will show a little gumption and not just pay for them to go away. Appeasement NEVER WORKS.
The AAPL chart is similar to the GLD, flagging out, resting on the lower Bollinger Band and oversold. Usually at this time, ahead of the new IPhone release and the problems of exploding batteries at its major competitor, Samsung. CAM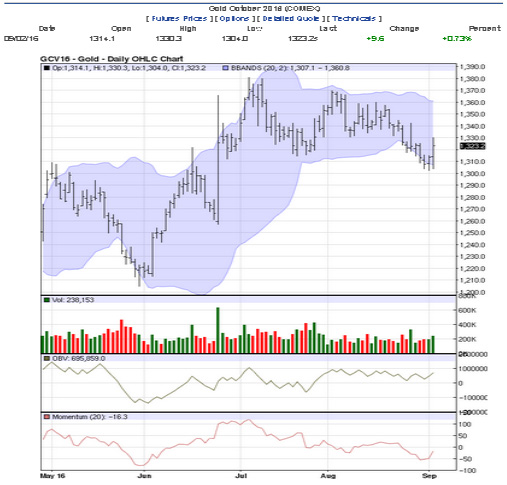 The AAPL chart is similar to the GLD, flagging out, resting on the lower Bollinger Band and oversold. Usually at this time, ahead of the new IPhone release and the problems of exploding batteries at its major competitor, Samsung. Have a good short week..CAM
All trades were based on your participation in the texting service to receive updates

New trades $ 10,000 account...In Texting we have a limited amount of words. In the interest of brevity: OPTIONS ONLY: 1 January , 2 February. The Quantity and Strike Price for each trade is specific. Trading is hypothetical. For questions please call 702 650 3000

Contact:
Mike King
Princeton Research
3887 Pacific Street, Las Vegas, Nevada 89121
Or:
Charles Moskowitz
CAM@MoneyInfo-LLC.com
781 826 8882
Phone: (702) 650-3000
Fax: (702) 697-8944
mike@princetonresearch.com or cam@princetonresearch.com
Visit: www.princetonresearch.com
Disclaimer*
Princeton is paid $ 1,500 per month from RMS Medical Products. The SITS contract calls for $ 1,500 per month. Princeton had been engaged by Target Energy. No contract is currently in place. . Princeton is paid $ 2500 per month by Immune Therapeutics. Princeton was paid about 300,000 restricted shares of Leo Motors. Princeton is paid $ 2,500 per month for International Star. Princeton is paid $ 2,500 from International Sustainability and is due $ 5,000 per month. Pursuant to the provisions of Rule 206 (4) of the Investment Advisers Act of 1940, readers should recognize that not all recommendations made in the future will be profitable or will equal the performance of any recommendations referred to in this Email issue. Princeton may buy or sell its free-trading shares in companies it represents at any time. Y means the writer has a position of 10,000 shares in the stock recommended. Disclaimer y: Princeton or its owner has a position in the stock….. about 10,000 shares:.
**
Crown Equity Holdings Inc. has received $1,000 dollars for the publication of Princeton Research, Inc.'s Weekly Market Strategies within the CRWE World network for 12 months

The news, reports, views and opinions of authors (or source) expressed are their own and do not necessarily represent the views of CRWE World.