Covering High return Balanced Investing Strategies To
Make Money In Up Or Down Markets
A Publication of Princeton Research, Inc. (www.PrincetonResearch.com)
Contributing Staff: Michael King, Charles Moskowitz

September 11, 2016
Charles Moskowitz Discussion
BUT RATES ARE GOING UP FOR THE RIGHT REASON !!!
Week 36 was a truly minor loss of $9, bringing our YTD gains back down to $6493. Our funds in use are only $694. We have positions that are leaned to the traditional shorts for a falling market. Gold, although "non-correlated" generally acts better when there is a scare, and I think this week will qualify. We also added a small position in the QQQ puts on Friday afternoon during the countertrend rally from down 320 to down 250 in the Dow.
Although this is a small position, it is also done in conjunction with the recent activity of this account. In recent activity I have kept funds in use to a minimum so as not to get trapped in the kind of action we saw Friday. Unfortunately, we did not get short the HOG via the text earlier in the week, but anyone who has followed this account knows, I don't chase trades.
The HOG puts were $ .80 and I bid $ .85, raised to .95 and when they traded $1.20 cancelled the bid. Yes, they closed $2.20, and the gain was great, but hindsight tends to work that way. If the market has truly turned for any significant move lower we'll find plenty of places to play.
So, the event that turned things started with Mr. Draghi and ECB's lack of changing rates and announcing more asset purchases. That was followed by our Fed members jawboning their way into the public awareness, giving us their interpretation of what our economic numbers mean to them. DOES EVERYONE NEED THEIR 15 MINUTES IN FRONT OF THE CAMERA ?? The numbers that are quoted are going to be revised, at least twice; new numbers will come later and the FED will have meetings that they can use to discuss these issues among themselves and make a decision. We don't need all the inter-meeting lectures.
All the talk about rate raising because the economy is getting better is great, if it's true and sustainable. I'm not an economist, just a trader and I don't know. What I do know is that things are priced for perfection (as can be seen every time someone misses by a penny or lowers guidance) and part of that perfection is a low or zero interest rate environment. If you take that out of the equation you start from scratch and the numbers are not nearly as cheery as what we've had to work with up until now. Friday's action shows that no matter what the reason, rising rates are bad for prices, at least in the short term…CAM
All trades were based on your participation in the texting service to receive updates.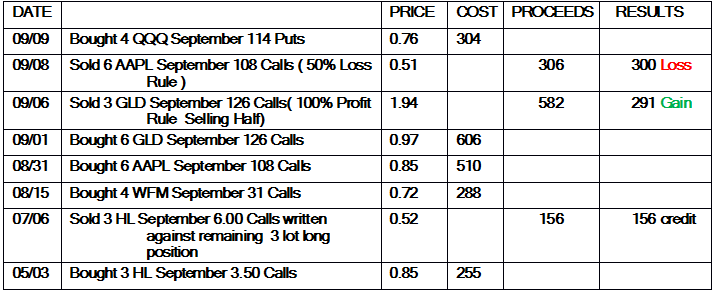 New trades $ 10,000 account...In Texting we have a limited amount of words. In the interest of brevity: OPTIONS ONLY: 1 January , 2 February. The Quantity and Strike Price for each trade is specific. Trading is hypothetical. For questions please call 702 650 3000.
3rd Week expiration When the month is listed without a date
New Trades Options Account:
( 1 ) Buy 4 FB September 128 Calls @ 0.90
NEW Trades $ 100,000 account :
( 1 ) Buy 8 FB September 128 Calls @ $ 0.90
( 2 ) Buy 300 HDGE at Mkt on Opening

Contact:
Mike King
Princeton Research
3887 Pacific Street, Las Vegas, Nevada 89121
Or:
Charles Moskowitz
CAM@MoneyInfo-LLC.com
781 826 8882
Phone: (702) 650-3000
Fax: (702) 697-8944
mike@princetonresearch.com or cam@princetonresearch.com
Visit: www.princetonresearch.com
Disclaimer*
Princeton is paid $ 1,500 per month from RMS Medical Products. The SITS contract calls for $ 1,500 per month. Princeton had been engaged by Target Energy. No contract is currently in place. . Princeton is paid $ 2500 per month by Immune Therapeutics. Princeton was paid about 300,000 restricted shares of Leo Motors. Princeton is paid $ 2,500 per month for International Star. Princeton is paid $ 2,500 from International Sustainability and is due $ 5,000 per month. Pursuant to the provisions of Rule 206 (4) of the Investment Advisers Act of 1940, readers should recognize that not all recommendations made in the future will be profitable or will equal the performance of any recommendations referred to in this Email issue. Princeton may buy or sell its free-trading shares in companies it represents at any time. Y means the writer has a position of 10,000 shares in the stock recommended. Disclaimer y: Princeton or its owner has a position in the stock….. about 10,000 shares
**
Crown Equity Holdings Inc. has received $1,000 dollars for the publication of Princeton Research, Inc.'s Weekly Market Strategies within the CRWE World network for 12 months