Covering High return Balanced Investing Strategies To
Make Money In Up Or Down Markets
A Publication of Princeton Research, Inc. (www.PrincetonResearch.com)
Contributing Staff: Michael King, Charles Moskowitz

September 18, 2016
Charles Moskowitz Discussion
WOE IS THE WASH SALE RULE
Week 37 was a pretty good week, bolstered by the increase in volatility in the markets. We had an increase in trading activity to 8 completed trades and a profit of $781, including a couple of day trades. YTD gains increased back to $7274, only a hair away from the high for the year back in July of $7326. We have 3 open trades with the use of funds at $1356.
This week was interesting in that we stayed within the range of the break to the downside from S&P 2165 and the support (former highs) of S&P 2120. On a slightly more intermediate view this keeps the index above the post Brexit breakout point from July 8th. As I've pointed out in the past, this is an important feature in a continuing Bull market. It's not that we can't have pullbacks that violate these levels, we should and do. If you can get away from the "sound byte" mentality and look at a monthly chart of the S&P500, you'll see that after the 7/07-3/08 period you can see that we had an initial run and breakout @1000 in 8/09 and a test of 1010 in 7/10. A breakout in 12/10 and a higher high in 10/11 followed by the breakout in 3/12 that led to a 3 year run of 50% to 2100. These 2 years of edging slightly higher has occurred between 1810 and the all-time highs. Is it a top? I certainly don't profess to know, but until we stop consolidating at ever higher levels I'd have to say no. Besides, a look at our record of trades shows that we make money with put and calls whether I'm bullish or bearish the overall market.
Another indicator might be the sentiment numbers in the Market Lab. Bullish numbers fell below 28 and are now nearly 30% below average while bearish and neutral are 20% over. With 72% of investors either bearish or neutral I think it's time to break out one of my favorite clichés. "Everybody is never right."
On 9/8 we got stopped out of our long position in AAPL calls on the 50% Down rule, and as much as I didn't want to give up the position, the rule is the rule. The thesis was that between announcement and actual release AAPL moves higher. Unfortunately we ran into a little softness and a 400 down market. More unfortunately we also ran into the "Wash sale rule" which states that if you take a loss, you cannot trade the same, or a like security within 31 or you cannot take the loss on your schedule D for taxes. For that reason we did not go back into the AAPL. The cost was dramatic with the 9/108 calls moving as much as $8.00 in the money before expiring Friday. Clearly taking a $300 loss on 6 calls and leaving as much as $5000+ on the table looks clear in hindsight, but I would welcome any feedback from readers as to whether they take this rule into consideration in their trading…CAM
All trades were based on your participation in the texting service to receive updates.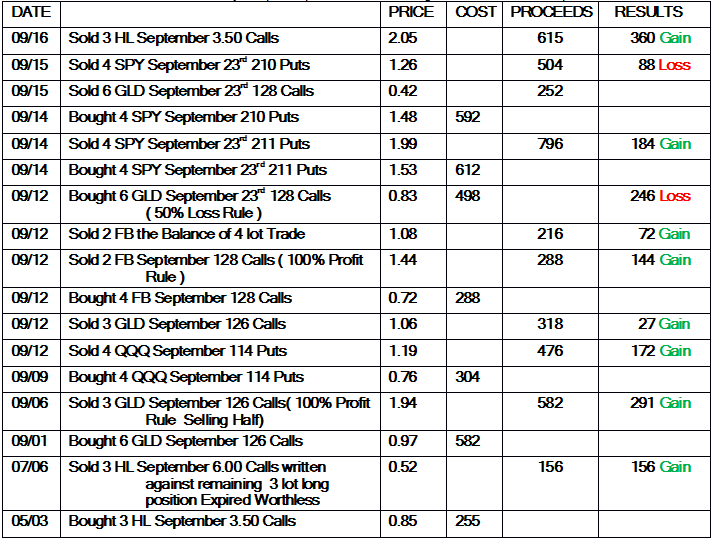 New trades $ 10,000 account...In Texting we have a limited amount of words. In the interest of brevity: OPTIONS ONLY: 1 January , 2 February. The Quantity and Strike Price for each trade is specific. Trading is hypothetical. For questions please call 702 650 3000.

Contact:
Mike King
Princeton Research
3887 Pacific Street, Las Vegas, Nevada 89121
Or:
Charles Moskowitz
CAM@MoneyInfo-LLC.com
781 826 8882
Phone: (702) 650-3000
Fax: (702) 697-8944
mike@princetonresearch.com or cam@princetonresearch.com
Visit: www.princetonresearch.com
Disclaimer*
Princeton is paid $ 1,500 per month from RMS Medical Products. The SITS contract calls for $ 1,500 per month. Princeton had been engaged by Target Energy. No contract is currently in place. . Princeton is paid $ 2500 per month by Immune Therapeutics. Princeton was paid about 300,000 restricted shares of Leo Motors. Princeton is paid $ 2,500 per month for International Star. Princeton is paid $ 2,500 from International Sustainability and is due $ 5,000 per month. Pursuant to the provisions of Rule 206 (4) of the Investment Advisers Act of 1940, readers should recognize that not all recommendations made in the future will be profitable or will equal the performance of any recommendations referred to in this Email issue. Princeton may buy or sell its free-trading shares in companies it represents at any time. Y means the writer has a position of 10,000 shares in the stock recommended. Disclaimer y: Princeton or its owner has a position in the stock….. about 10,000 shares:
**
Crown Equity Holdings Inc. has received $1,000 dollars for the publication of Princeton Research, Inc.'s Weekly Market Strategies within the CRWE World network for 12 months