Zogenix, Inc. (ZGNX)
Hedge fund Great Point Partners, LLC disclosed in a regulatory filing ( SC 13G ) with the Securities and Exchange Commission (SEC) a 5.93% stake (1,466,357 shares) in ZGNX.
ZGNXrecently reported positive top-line pharmacokinetic results from its Phase 1b multi-dose clinical trial of Relday(TM), a proprietary, once-monthly subcutaneous investigational formulation of risperidone for the treatment of schizophrenia.
If approved, Relday has the potential to be the first subcutaneous antipsychotic product that achieves therapeutic drug levels on the first day of administration, allows for once-monthly dosing and does not require reconstitution.
In July 2011, ZGNX licensed from DURECT exclusive global rights to develop and commercialize this proprietary formulation which utilizes DURECT's SABER(R) depot technology.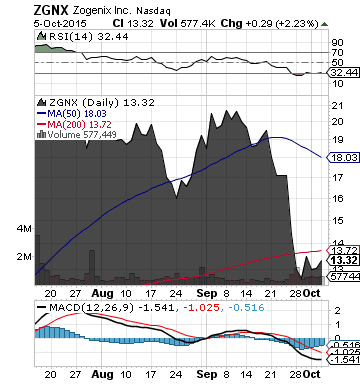 ZGNXis a pharmaceutical company committed to developing and commercializing CNS therapies that address specific clinical needs for people living with orphan and other CNS disorders who need innovative treatment alternatives to help them return to normal daily functioning.
More about Zogenix, Inc. (ZGNX) atwww.zogenix.com.
**

Illumina Inc. (ILMN)
Shares of ILMN plunged more than 14% in the extended session Monday after the company issued its revenue guidance, below analysts' estimates, for the third and fourth quarters.
ILMN said that it expects third quarter fiscal 2015 revenue of approximately $550 million and fourth quarter revenue of approximately $570 million, numbers below the Capital IQ Consensus Estimates of $569.01 million in revenue for the third quarter and $602.97 million in revenue for the fourth quarter 2015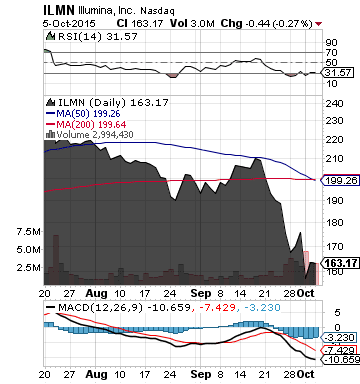 ILMNis improving human health by unlocking the power of the genome. Its focus on innovation has established the company as the global leader in DNA sequencing and array-based technologies, serving customers in the research, clinical and applied markets.
More about Illumina Inc. (ILMN) at www.illumina.com
**
Disclaimer:The disclaimer is to be read and fully understood before using our site, or joining our email list. CRWEWorld Finance is not a registered investment adviser. This material is for informational purposes only and should not be construed as an offer or solicitation of an offer to buy or sell securities. Investors should always conduct their own due diligence with any potential investment, with independent research and other professional advice. Read Full Disclaimer at www.crweworld.com/finance_disclaimer
The news, reports, views and opinions of authors (or source) expressed are their own and do not necessarily represent the views of CRWE World.