Covering High return Balanced Investing Strategies To
Make Money In Up Or Down Markets
A Publication of Princeton Research, Inc. (www.PrincetonResearch.com)
Contributing Staff: Michael King, Charles Moskowitz

September 25, 2016
Charles Moskowitz Discussion
Week 38 was a disappointment for me. We started out well enough but ended up on a sour note with FB numbers being called into question. I was concerned that the chart formation was beginning to look like a "bear flag" and if it follows through to the downside this week it would be confirmed. A close below $127 would be a problem.
The issue concerns me because in my own experience, I have found that I am often prompted to open FB by emails that tell me that I have "new notifications" waiting, only to find that they are either announcements I have already opened or a note that says, "a lot has happened since you last signed on." This means that they are counting my visits that would not have occurred had I not received these emails. It also sends me prompts that I have been tagged in a photo, when in reality it is a response from a friend of a friend who has commented about a post…again I open the account and get counted.
The company and stock have a cult following, and I'm sure that my comments will fall on deaf ears, but frankly, it represents another stock priced for perfection and if another set of numbers comes under question it will be a bigger problem. Like Tesla or NFLX or TWTR, you can love the product and get hurt in the stock.
As noted in the Market Lab on page 3, the A.A.I.I. sentiment numbers are getting back to absurdly low for the bulls again. Several months ago we were back down below 20 for 2 weeks and that was a level seen something like only a handful of times over the last many decades. These kind of readings are not indicative of a market topping out. We are only 24.8% bulls which means that over 75% of those polled are at best neutral and at worst negative the market. I believe that many are finally beginning to understand and be concerned with the world's biggest governments racing to the bottom of the valuations of their currencies. The need to own some portion of your portfolio in precious metals is paramount. While we own HL, I am looking for a way to own some GLD or some individual miners. Watch the texting service for new trades. CAM
All trades were based on your participation in the texting service to receive updates.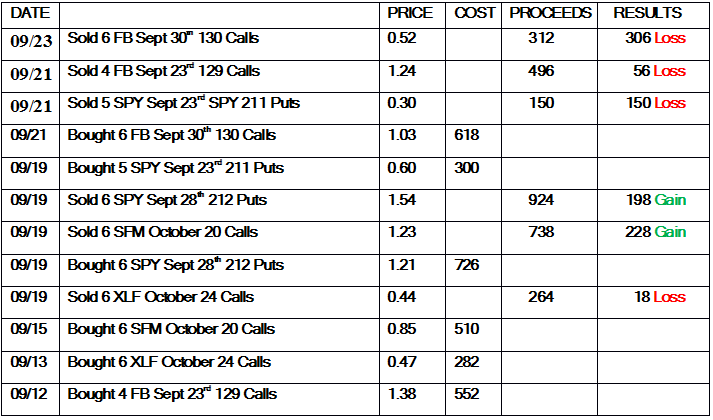 New trades $ 10,000 account...In Texting we have a limited amount of words. In the interest of brevity: OPTIONS ONLY: 1 January , 2 February. The Quantity and Strike Price for each trade is specific. Trading is hypothetical. For questions please call 702 650 3000.
3rd Week expiration When the month is listed without a date
New Trades Options Account:
( 1 ) Buy 6 BAC October 15 Calls @ $ 0.70
( 2 ) Buy 6 SAVE October 40 Calls @ $ 1.01
NEW Trades $ 100, 000 account :
( 1 ) Buy 12 BAC October 15 Calls @ $ 0.70
( 2 ) Buy 12 SAVE October 40 Calls @ $ 1.01

Contact:
Mike King
Princeton Research
3887 Pacific Street, Las Vegas, Nevada 89121
Or:
Charles Moskowitz
CAM@MoneyInfo-LLC.com
781 826 8882
Phone: (702) 650-3000
Fax: (702) 697-8944
mike@princetonresearch.com or cam@princetonresearch.com
Visit: www.princetonresearch.com
Disclaimer*
Princeton is paid $ 1,500 per month from RMS Medical Products. The SITS contract calls for $ 1,500 per month. Princeton had been engaged by Target Energy. No contract is currently in place. . Princeton is paid $ 2500 per month by Immune Therapeutics. Princeton was paid about 300,000 restricted shares of Leo Motors. Princeton is paid $ 2,500 per month for International Star. Princeton is paid $ 2,500 from Leo Motors. Pursuant to the provisions of Rule 206 (4) of the Investment Advisers Act of 1940, readers should recognize that not all recommendations made in the future will be profitable or will equal the performance of any recommendations referred to in this Email issue. Princeton may buy or sell its free-trading shares in companies it represents at any time. Y means the writer has a position of 10,000 shares in the stock recommended. Disclaimer y: Princeton or its owner has a position in the stock….. about 15,000 shares:
**
Crown Equity Holdings Inc. has received $1,000 dollars for the publication of Princeton Research, Inc.'s Weekly Market Strategies within the CRWE World network for 12 months

The news, reports, views and opinions of authors (or source) expressed are their own and do not necessarily represent the views of CRWE World.