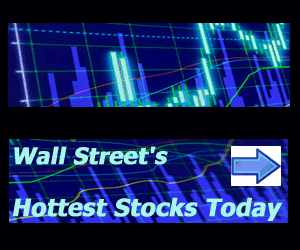 Hancock Jaffe Laboratories Inc. (Nasdaq:HJLI) specializes in developing and manufacturing bioprosthetic medical devices to establish improved standards of care for treating cardiac and vascular diseases. HJLI currently has three product candidates: the porcine tissue based VenoValve, which is intended to be surgically implanted in the deep venous system of the leg to treat Chronic Venue Insufficiency; the CoreoGraft, a bovine tissue based off the shelf conduit intended to be used for coronary artery bypass surgery, and a porcine tissue based heart valve, which based upon its relatively small size and increased output, is an ideal candidate for pediatric aortic/mitral valve replacement.
What You Need to Know About HJLI
New Age Beverages Corp. (Nasdaq:NBEV) said after the closing bell Thursday that it intends to offer shares of its common stock for sale in an underwritten public offering. The Company intends to use the net proceeds from this offering for working capital and potential acquisitions.
New Age Beverages is a Colorado-based healthy functional beverage company. Its brands are sold across all 50 states within the US and in more than 15 countries internationally across all channels via direct and store door distribution systems.
****
AcelRx Pharmaceuticals, Inc. (Nasdaq:ACRX) said Friday that it intends to offer and sell, subject to market and other conditions, shares of its common stock in an underwritten public offering. AcelRx intends to use the net proceeds from the offering, in addition to its existing cash resources, to fund the commercial launch of DSUVIA and for general corporate purposes.
AcelRx Pharmaceuticals is a specialty pharmaceutical company focused on the development and commercialization of innovative therapies for use in medically supervised settings.
****
Aurora Cannabis Inc. (NYSE:ACB) (TSX:ACB) has scheduled its conference call to discuss the results for its first quarter fiscal 2019 on Monday, November 12 before the market open.
Aurora is one of the world's largest and leading cannabis companies. Aurora Cannabis is vertically integrated and horizontally diversified across every key segment of the value chain, from facility engineering and design to cannabis breeding and genetics research, cannabis and hemp production, derivatives, high value-add product development, home cultivation, wholesale and retail distribution.
****
Rolling stock leasing company Akiem and Bombardier's (OTCMKTS:BDRBF) (TSX:BBD.B)subsidiary Bombardier Transportation have signed two contracts under frame contracts to deliver a total of 33 BOMBARDIER TRAXX locomotives. Based on their list price, the two firm orders are valued at a combined total of €112 million ($128 million US). Scheduled for delivery between 2019 and 2021 at the latest and designed for operation under Europe's main voltages, the locomotives offer Akiem and its customers flexibility and efficiency
Bombardier is a global leader in the transportation industry, creating innovative and game-changing planes and trains.
****
Disclaimer: The disclaimer is to be read and fully understood before using our site, or joining our email list. CRWEWorld Finance is not a registered investment adviser. This material is for informational purposes only and should not be construed as an offer or solicitation of an offer to buy or sell securities. Investors should always conduct their own due diligence with any potential investment, with independent research and other professional advice. Read Full Disclaimer at www.crweworld.com/finance_disclaimer