Covering High return Balanced Investing Strategies To
Make Money In Up Or Down Markets
A Publication of Princeton Research, Inc. (www.PrincetonResearch.com)
Contributing Staff: Michael King, Charles Moskowitz
November 09, 2015,
Market Strategies Guide to Successful Trading
Charles Moskowitz Discussion
Week 45 produced a gain of $497, bringing our YTD gain up to a new yearly high of $8922. We have 4 open positions using a total of $1667. The open positions in both NE and TWTR are actually the balance of trades that were opened and hit the 100% Up rule the first day.
I continue to make trades on the long side of this market while keeping a very close eye on any weakness. I gave up the position in the TBT calls a little early but with good gains in a market that I felt had shifted from oversold to overbought. Even if the Fed does raise rates in December the bonds seem to have already factored it in. A couple of weeks ago I stated that the December 30-year chart (@ 157-158) could test the September lows around 152. We traded the XLF (financials) calls very profitably and kept the TBT (bond short) position. Friday's low for the Dec. bonds was 151 25/32, just under the support from the Sept. 17th low. I have very little concern about selling too early, as bond yields tend to trend once a new direction has been established. If that has happened, we'll have plenty of time and chances to participate. The market that is suffering the most seems to be the Gold. Since it provides no yield, it tends to trade lower while rates are rising. You have to own it, and store it, and that just doesn't make any sense if its price isn't moving up. The comparison with a US government obligation with a good yield is clearly preference.
In looking at the S&P500 chart it seems to me that this rally straight up from the double bottom low in September @ 1871 has run its course. Even though we keep grinding higher we have not had more than a 3-4 day consolidation or pullback for 6 weeks. The list of new highs has diminished and the rally keeps getting more and more narrow. I'm not bearish, but as Mike discusses in the Cycles section today we are coming into a period of under- performance for the next week or so. For that reason I am much more likely to favor the short side, or at least cut back on new long positions. I was clearly too early on the IWM (Russell) short last week and it caused the only loss for the week.
The politics are a non-starter for me. Of course we are going to see many of the possible candidates fall by the wayside. The Sunday shows had very little to even discuss this week. On the international front there are a continuously growing number of conflicts involving Russia, Syria, and now Egypt. There is no shortage of issues that could cause a downdraft back from the close @ 2099 to the support around 2050 or even 2020. So, between the cycles and the overbought nature of the market, I'm cautious..CAM.
New Trades Options account:
( 1 ) Buy 4 CONN November 23 Calls @ $ 1.30
( 2 ) Buy 6 TJX December 75 Calls @ $ 1.10
( 3 ) Buy 4 UAL December 62.50 Calls @ $ 1.95
All trades were based on your participation in the texting service to receive updates. Previous closed out trades not listed here may be seen in previous market letters.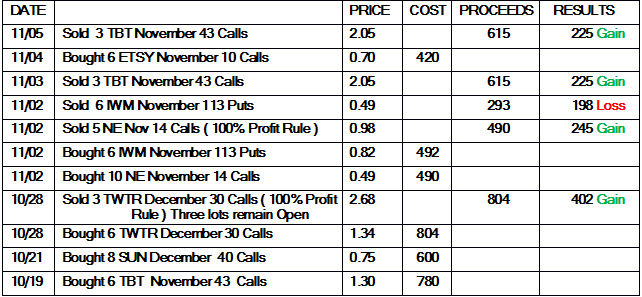 New trades $ 10,000 account...In Texting we have a limited amount of words. In the interest of brevity: OPTIONS ONLY: 1 January , 2 February. The Quantity and Strike Price for each trade is specific. Trading is hypothetical. We may trade weekly options and they are noted: SPY 1/25 147 for SPY Jan 25th 147 Calls or Puts.For questions please call 702 650 3000. Closed out positions are found in previous letters dating back four years: Nov2nd; Oct 26th;19th;12th; 5th;Sept 28th;21st;14th;7th;Aug 31st; 24th; 17th;10th 3rd; July 27th
Read More: CLICK HERE
or ( http://www.princetonresearch.com/11-9-2015-Market-Strategies.pdf )
Mike King
Princeton Research
3887 Pacific Street, Las Vegas, Nevada 89121
Or:
Charles Moskowitz
CAM@MoneyInfo-LLC.com

Phone: (702) 650-3000
Fax: (702) 697-8944
mike@princetonresearch.com or cam@princetonresearch.com
Visit: www.princetonresearch.com
Disclaimer*
Princeton is paid $ 1,500 per month from RMS Medical Products. The SITS contract calls for $ 1,500 per month. Princeton had been engaged by Target Energy. No contract is currently in place. . Princeton is paid $ 2500 per month by Immune Therapeutics. Princeton was paid about 300,000 restricted shares of Leo Motors. Princeton is paid $ 2,500 per month for International Star. Princeton is paid $ 2,500 from International Sustainability and is due $ 5,000 per month. Pursuant to the provisions of Rule 206 (4) of the Investment Advisers Act of 1940, readers should recognize that not all recommendations made in the future will be profitable or will equal the performance of any recommendations referred to in this Email issue. Princeton may buy or sell its free-trading shares in companies it represents at any time.