Covering High return Balanced Investing Strategies To
Make Money In Up Or Down Markets
A Publication of Princeton Research, Inc. (www.PrincetonResearch.com)
Contributing Staff: Michael King, Charles Moskowitz
November 15, 2015,
Market Strategies Guide to Successful Trading
Charles Moskowitz Discussion
Week 46 generated a loss of $788 bringing YTD gains back down to $8144. In fact, the losses on NE and TWTR were actually the second half of trades from the week before that were taken out on the 100% Up rule. This left us with overall profits in both trades. Funds in use are $1236.
The attacks in Paris should generate some well- deserved anxiety and along with that generally comes international purchases of Gold and some of the miners. As Mike points out in the Fundamental section later in this letter, this is also a time of the year for a rally in the metals. I will determine the best way to trade the gold or silver after I see what the futures are doing overnight.
The Democratic debate was kind of a nonevent. To me, it differs dramatically from the Republicans in that they may have to go with someone other than Jeb Bush. I am really surprised at his lack of ability to take any aggressive stand on the issues. I can't believe that Trump or Carson have any real shot at the nomination, but the overall suspension of what we have come to know as a political belief favors an outsider. Let's hope something changes soon…
Early in the week we went long the bonds (TLT) and it seems to be working. I was on this side of the market when nobody else could see anything but higher rates back In November of last year. Technically we had a temporary top around 152 (Dec 30-yr Contract) after a rally from 142. We than had pullback and then we broke out to a massive move to 166 in just 3 weeks. I have said repeatedly that these are moves that used to take months or years, but these markets are no longer bound by time.. After coming back down to consolidate in the 148-152 area we had several closes all around that magic number..152. Three weeks ago I said that if we broke 156 we would test 152, and this area again looks to me to be very important. If the trend line beginning in January 2014 holds we could see a test of 156 or higher.
The political issues tend to cause a flight to safety in both Gold and US treasuries. We are already long the bonds and we will look for the gold trade early in the week…..CAM
New Trades Options account:
Trades will be Texted
All trades were based on your participation in the texting service to receive updates. Previous closed out trades not listed here may be seen in previous market letters.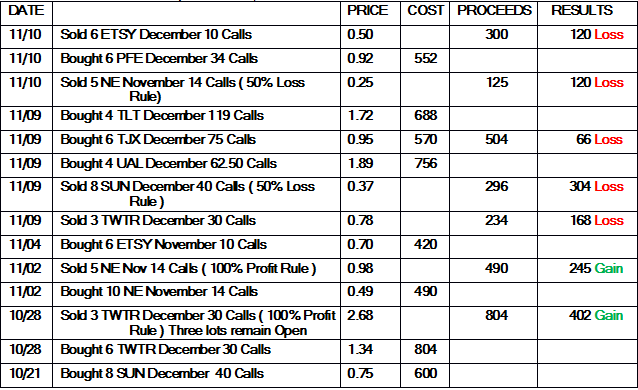 New trades $ 10,000 account...In Texting we have a limited amount of words. In the interest of brevity: OPTIONS ONLY: 1 January , 2 February. The Quantity and Strike Price for each trade is specific. Trading is hypothetical. We may trade weekly options and they are noted: SPY 1/25 147 for SPY Jan 25th 147 Calls or Puts.For questions please call 702 650 3000. Closed out positions are found in previous letters dating back four years: Nov9th; 2nd; Oct 26th;19th;12th; 5th;Sept 28th;21st;14th;7th;Aug 31st; 24th; 17th;10th 3rd; July 27th
or ( http://www.princetonresearch.com/11-16-2015-Market-Strategies.pdf )
Mike King
Princeton Research
3887 Pacific Street, Las Vegas, Nevada 89121
Or:
Charles Moskowitz
CAM@MoneyInfo-LLC.com
Phone: (702) 650-3000
Fax: (702) 697-8944
mike@princetonresearch.com or cam@princetonresearch.com
Visit: www.princetonresearch.com
Disclaimer*
Princeton is paid $ 1,500 per month from RMS Medical Products. The SITS contract calls for $ 1,500 per month. Princeton had been engaged by Target Energy. No contract is currently in place. . Princeton is paid $ 2500 per month by Immune Therapeutics. Princeton was paid about 300,000 restricted shares of Leo Motors. Princeton is paid $ 2,500 per month for International Star. Princeton is paid $ 2,500 from International Sustainability and is due $ 5,000 per month. Pursuant to the provisions of Rule 206 (4) of the Investment Advisers Act of 1940, readers should recognize that not all recommendations made in the future will be profitable or will equal the performance of any recommendations referred to in this Email issue. Princeton may buy or sell its free-trading shares in companies it represents at any time.