News Provided by Accesswire
2021-02-25
LOS ANGELES, CA / ACCESSWIRE / February 25, 2021 /Cresting Wave Publishing, a member of the Independent Book Publishers Association, announced the worldwide release of Mark Even's The Power of the Emerald Ring, sequel to The Wonders of the Peculiar Parasol.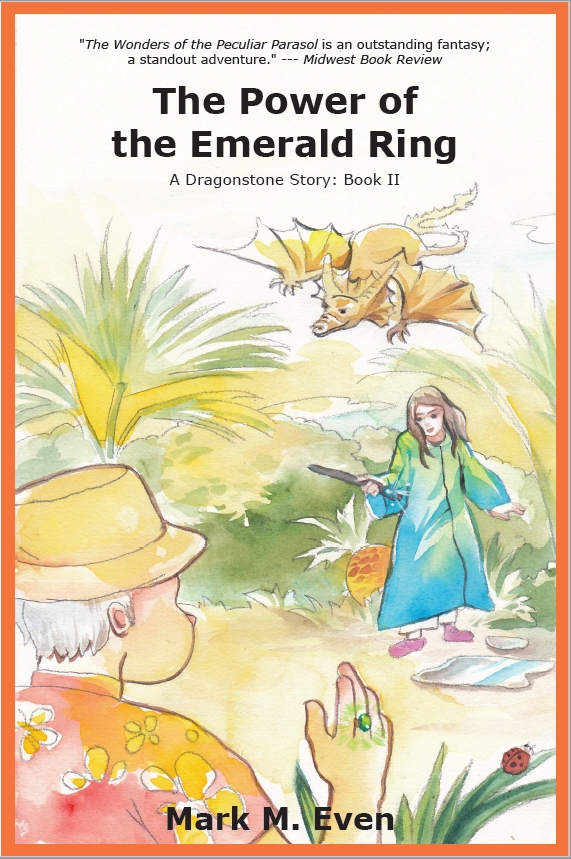 The Power of the Emerald Ring: Book II in the Dragonstone Story series, picks up as Mandy Mandez and her extended family embrace their new-found magical powers. The family finds an ally inside the F.B.I. and begins to leverage their magic to fight crime until they encounter an evil wizard with an unquenchable thirst for power and money. When Mandy is taken prisoner, she has to try and withstand his power or succumb to the temptation of becoming a dark wizard herself.
"Author Mark M. Even has crafted a spellbinding work of children's fiction with plenty of charm and innovation to offer its readers. One of the most essential features of this work is the talent the author displays in worldbuilding through such details as the magical powers that Mandy can wield and how these powers can be adapted, or even abused by those with evil on their minds. The book is highly accessible and dramatic without being frightening, making it a wonderful reading experience for solo readers. I could also easily see its bright and inspiring message being a lovely classroom read too. Overall, I would highly recommend The Power of the Emerald Ring to fans of classic fantasy tales, imaginative children's fiction, and for young independent readers everywhere." - Readers' Favorite Review
Says author Mark M. Even, "I began this project to inspire and entertain my own grandchildren. I can't tell you the pleasure and pride I get from knowing that my stories have reached families around the world and continue to inspire the next generation of creative minds."
The Power of the Emerald Ring is the second book in the Dragonstone Story series by award-winning author, Mark Even. The first book, The Wonders of the Peculiar Parasol was released in 2019 and has earned multiple awards and great reviews. Go to www.dragonstonestories.com for in-depth stories of some of the book's characters.
Links:
www.dragonstonestories.com
The Power of the Emerald Ring: A Dragonstone Story: Book II (Kindle)
The Power of the Emerald Ring: A Dragonstone Story - Book II (Paperback)
The Wonders of the Peculiar Parasol (Kindle)
The Wonders of the Peculiar Parasol (Paperback)
About Mark M. Even
Mark Even retired from IBM after nearly 40 years in 2017. The Power of the Emerald Ring is his second venture into writing fiction. The stories were inspired by his niece, Gina, who made up a game for children to pretend to travel to faraway lands and then tell the story of what they did and saw. Mark is a long-time fan of comic books, superheroes and science fiction. Mark tapped into his appreciation of these genres to create these stories for his grandchildren's enjoyment.
Mark resides in Minnesota, where he enjoys movies, travel, fishing, birdwatching, golf, and, of course, his grandchildren.
AboutCresting Wave Publishing
A student of both English and computer programming, Dana Michael has fulfilled his lifelong ambition to run a publishing company, after having authored hundreds of articles published in a variety of technical magazines and newsletters. Cresting Wave Publishing was founded in August 2019 by Dana Michael and his wife, Laura, to work with new and established writers to get their books into the zeitgeist. Cresting Wave Publishing is home to a growing catalog of compelling literature.
Media Contact
Will Armstrong
Armstrong Public Relations
310-237-8506
Will@armstrongpublicrelations.com
SOURCE:Cresting Wave Publishing
View source version on accesswire.com:
https://www.accesswire.com/632286/CRESTING-WAVE-PUBLISHING-GLOBAL-RELEASE-The-Power-of-the-Emerald-Ring-Book-II-of-the-Dragonstone-Story-Series
© 2021 Accesswire. All Rights Reserved.
The news, reports, views and opinions of authors (or source) expressed are their own and do not necessarily represent the views of CRWE World.