Grand Opening Celebration to start Saturday, November 21st at 8AM and include free medium hot or iced coffee, Dunkin' Donuts mascots and fun giveaways
MACON, G.A. -

(
EINPresswire
via
NewMediaWire
) - November 17, 2015 - Dunkin' Donuts, America's all-day, everyday stop for coffee and baked goods, today announced that it is hosting a Grand Opening Celebration at its new restaurant in Macon at 860 Forsyth Street, beginning at 8 am on Saturday, November 21st. To celebrate the grand opening, the restaurant will offer guests a free medium hot or iced coffee, Dunkin' Donuts themed giveaways and appearances by Dunkin' Donuts mascots, Cuppy and Sprinkles, from 8 am to noon on November 21st. Additionally, 10% of sales during the event will be donated by the restaurant's franchisee, Lou Patel, to the Tremont Temple Baptist Church, which was formerly located at the site of the new store. Radio station WQBZ-FM 106.3 will also be on site from 10AM-noon.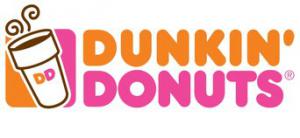 The new Dunkin' Donuts restaurant is open from 5am to midnight, 7 days a week and employs approximately 25 crew members. The restaurant has comfortable seating and provides a welcoming environment for guests to enjoy Dunkin' Donuts' food and beverages in a friendly and fun atmosphere. The restaurant also offers a drive thru, outdoor seating, a conference room, flat-screen television and free Wi-Fi internet access.
The new restaurant in Macon offers a complete menu of Dunkin' Donuts' internationally recognized coffee, lattes, donuts and bakery goods. The restaurant also serves newer menu innovations such as Rainforest Alliance Certified™ Dark Roast coffee and the new Pumpkin Macchiato.
"Dunkin' Donuts is one of the world's leading brands, and it has also become a favorite in Macon," said Lou Patel, QSR, LLC, Dunkin' Donuts franchisee. "We are proud to serve the people of Macon and hope to become a popular destination for guests."
Dunkin' Donuts is America's favorite all-day, everyday stop for coffee and baked goods, selling more than 1.8 billion cups of hot and iced coffee and espresso-based beverages, and approximately 2.8 billion donuts and MUNCHKINS® donut hole treats combined globally per year. Today, there are more than 11,500 Dunkin' Donuts restaurants in 40 countries around the world.
To learn more about Dunkin' Donuts visit
www.DunkinDonuts.com
or follow us on Facebook (
www.facebook.com/DunkinDonuts
) and Twitter (
www.twitter.com/DunkinGA
).
About Dunkin' Donuts
Founded in 1950, Dunkin' Donuts is America's favorite all-day, everyday stop for coffee and baked goods. Dunkin' Donuts is a market leader in the hot regular/decaf/flavored coffee, iced coffee, donut, bagel and muffin categories. Dunkin' Donuts has earned the No. 1 ranking for customer loyalty in the coffee category by Brand Keys for nine years running. The company has more than 11,500 restaurants in 40 countries worldwide. Based in Canton, Mass., Dunkin' Donuts is part of the Dunkin' Brands Group, Inc. (Nasdaq: DNKN) family of companies. For more information, visit
www.DunkinDonuts.com
.
Shelly Kriviski
Alliance Marketing Partners
4042311866

The news, reports, views and opinions of authors (or source) expressed are their own and do not necessarily represent the views of CRWE World.