Providing Service Assurance Platforms for Hadoop Environments
BOSTON, MA, -

(
EINPresswire
via
NewMediaWire
) - November 19, 2015 -- Centerity Systems, Inc. today announces that it has certified on Cloudera Enterprise 5 and that Centerity has joined the
Cloudera Connect Partner Program
as an ISV technology partner. Centerity's next-generation, service assurance, IT monitoring platform extends its end-to-end coverage to include the entire
Hadoop environment
whether in public/private clouds or on prem. This integration gives users holistic business process views via Centerity's
Business Service Management
(BSM) features so users can know the real-time status of their key business processes and performance against its target SLAs. Real-time visibility provides users with a business intelligence layer across their entire IT environment delivering predictive, trend, impact and root cause analytics to reduce operational complexity, MTTR and OPEX. These consolidated views of the application, big data, and infrastructure layers, allow Apache Hadoop users to experience greater operational satisfaction and higher ROI with a lower TCO for their Hadoop investments.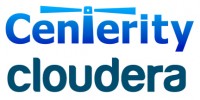 Centerity can monitor the following Hadoop ecosystem components and services:

•HDFS •HBase •Hive
•Hue •Impala •KS Indexer
•Oozie •Solr •Spark on YARN
•Sqoop •YARN •ZooKeeper
Centerity's award-winning, unified monitoring platform makes this all possible. Centerity bundles its enterprise-class and carrier-class features into a single, installable, software appliance requiring no integration or maintenance steps giving customers an extremely short time-to-value (TTV). Also, Centerity's novel plugin technology allows for its rapid extension to new technologies so that end-to-end coverage is maintained making the platform future-proof to changes in dynamic, next-gen data center environments. These features coupled with our industry-leading agentless and agent-based deployment options, our multi-tenanted operational efficiencies, and federated scalability makes Centerity the choice for complex, hybrid environments (physical, virtual, application and cloud) supporting the Big Data Layer.
"Centerity can be rapidly implemented into an existing environment via its unified platform, immediately collecting KPIs and integrating these into business process views for Hadoop, SAP HANA and/or NoSQL deployments. Centerity provides comprehensive, correlated views of business services with customizable executive dashboards, interactive maps/graphs, intuitive analytic tools and drills down root cause analysis charting. Centerity's out-of-the-box integration of Hadoop applications, scripts, plugins and services generates superior performance for any Hadoop or combined SAP HANA-Hadoop environments, making it indispensable to Cloudera users." -Marty Pejko, COO of Centerity Systems.
No one knows Apache Hadoop like Cloudera, which provides the world's fastest, easiest, and most secure data platform built on Hadoop.
About Centerity Systems Inc.
Centerity is the award-winning vendor of next-generation, end-to-end IT monitoring platform for complex hybrid IT environments (physical, virtual, application and cloud). Centerity, named a Gartner Cool Vendor in IT Operations Management (ITOM), provides business value and real-time business analytics regarding the status, performance, and availability of all IT assets and business processes for service assurance. Our unique, unified platform can serve the needs of both IT executives and administrators alike while providing a complete business intelligence layer across all IT assets via cross technical and functional domain impact, trend and root cause analysis through our Business Service Management capabilities.
Centerity Systems Inc.
Erika Anderson
6174311959

The news, reports, views and opinions of authors (or source) expressed are their own and do not necessarily represent the views of CRWE World.