Roche Pharmaceuticals will present on: "Challenges in paediatric drug development: new oncology drugs for children"
LONDON, UNITED KINGDOM -

(
EINPresswire
via
NewMediaWire
) - November 23, 2015 - Over the past 40 years
paediatric
oncology
in Europe made considerable progresses in increasing patient survival rates of up to 80% from previously 10%. This was achieved through close collaboration in multinational
clinical trials
. (Source: SIOPE - Clinical Trials in Paediatric Oncology)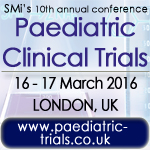 SMi Group reports: Sabine Fuerst-Recktenwald Senior Medical Director Paediatric Oncology, Roche Pharmaceuticals will present on: "Challenges in paediatric drug development: new oncology drugs for children" at the SMi Group's 10th annual Paediatric Clinical Trials conference (16-17 March 2016, London, UK).
The exclusive presentation will focus on the "optimal" timing and more sustainable "Mode of Action" based drug development model. Sabine Fuerst-Recktenwald will discover historical adult-centric versus integrated paediatric development at Roche and long-term safety considerations.
Furthermore, Ellen Bolotin, Global Clinical Leader in Paediatric, Bayer will present her case study on: "Networking in paediatric oncology", focusing on improving drug formulation and facilitating paediatric formulation development through existing data.
Paediatric Clinical Trials 2016 will benefit delegates as they will:
• Be able to discuss the framework of US and EU Paediatric Legislation
• Evaluate approaches for recruitment and retention
• Learn about safety considerations of paediatric clinical trial
• Explore recent developments in paediatric trials in the US
• Study the role of analgesics in paediatric population
• Analyse why paediatric formulation does matter
Confirmed Keynote Speakers for 2016 include:
• Sangeeta Sedani, Clinical Investigation Lead, GSK
• Albert J. Allen, Senior Medical Fellow, Paediatric Capabilities, Eli Lilly and Company
• Philippe Auby, Vice President of Global Clinical Research Paediatric Neuro-Psychiatry, Lundbeck SAS
• Ronald Rosenburg, Senior International Clinical Lead, Grunenthal
• Kristina An Haack, Clinical Study Director, Sanofi, and many more
In addition to the conference attendees will have the opportunity to participate in an exclusive full day pre-conference workshop which will be held on the 15th March 2016. The workshop entitled 'Drug development in the paediatric population' will be led by Klaus Rose, CEO, Klausrose Consulting.
For more information or to register visit the event website at
www.paediatric-trials.co.uk/ein
For sponsorship opportunities contact Alia Malick on +44 (0) 20 7827 6168 or email: amalick@smi-online.co.uk
For delegate enquires or to register contact Matthew Apps on +44 (0) 20 7827 6093 or email mapps@smi-online.co.uk
About SMi Group:
Established since 1993, the SMi Group is a global event-production company that specializes in Business-to-Business Conferences, Workshops, Masterclasses and online Communities. We create and deliver events in the Defence, Security, Energy, Utilities, Finance and Pharmaceutical industries. We pride ourselves on having access to the worlds most forward thinking opinion leaders and visionaries, allowing us to bring our communities together to Learn, Engage, Share and Network. More information can be found at
http://www.smi-online.co.uk
Anna Serazetdinova
SMi Group Ltd
+44702078276180

The news, reports, views and opinions of authors (or source) expressed are their own and do not necessarily represent the views of CRWE World.