The First All-In-One Fitness, Yoga and Cooking Service. The Perfect Gift That Keeps Giving Back
SAN FRANCISCO, CA -

(
EINPresswire
via
NewMediaWire
) - November 25, 2015 –
Grokker
, the wellness-focused online video network available on the web, iPhone, ipad apps, Chromecast , Roku delivers joy to all this holiday season with the promise to help you "Be a Better You." Grokker has everything needed to help people become the healthiest possible version of themselves making it the perfect gift to give to family, friends, and to yourself.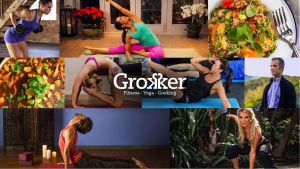 Grokker allows users to watch fitness, yoga, guided meditation, and cooking tutorial videos to fit specific needs. The stunning HD video library includes exclusive Grokker Premium video classes, produced in-house and led by hand-picked experts with new videos added regularly. Grokker Premium online subscriptions are available starting at just $9.99 per month, that's less than the cost of 1 studio class. With Grokker's all device accessibility, wide variety of 1000's of stunning video classes, and affordable price, your stocking stuffer is sure to delight. To order a Grokker subscription for your holiday gift giving go to
www.grokker.com
. Grokker also supports Diva For A Day Foundation, a non-profit that helps cancer sufferers enjoy a day of beauty and relaxation during their difficult and stressful times. Grokker provides the foundation both financial support as well as Grokker subscriptions.
No matter how little time you have, Grokker has the right video for you. With easy to use search filters you'll quickly discover the perfect workout, yoga practice, or recipe; from 30-minute yoga and Pilates to 15-minute HIIT and kickboxing to 5-minute gluten-free and vegan recipes. Grokker is the one-stop-wellness-resource for people looking to fit more health and wellness into their busy days. Grokker offers the best at-home exercise classes from handpicked personal trainers, and puts a gym right in your living room.
"With Grokker, you can afford to give the gift of health and wellbeing. Grokker's all-in-one yoga, fitness, meditation, and cooking video service has something for everyone, whether you want it on mobile, web, or on the TV in your living room," said Grokker Founder and CEO, Lorna Borenstein. "Grokker is the ultimate expert-led and community-driven video health and fitness resource that ensures Grokker members are never alone as they pursue their wellness goals." Giving the gift of Grokker is like giving your friends and family private yoga lessons or a personal trainer at home when they want it. So go ahead and give the gift of Grokker, it's good for you!
Grokker iOS Mobile App Features Include:
• Effortlessly track calories burned after each fitness video through integration with iOS 8 Health Kit
• Category specific filters to easily discover the perfect workout, yoga practice, or recipe
• Easily schedule videos for specific days and times to create a custom workout calendar and Grokker will send you an automatic reminder before each scheduled video so you never miss a workout
• Create custom playlists called "Collections," save videos to "Watch Later," or "Love" your favorites and Grokker keeps it all organized in "My Videos"
• AirPlay mirroring with Apple TV lets you watch your Grokker videos on TV any time
• "My Feed" recommends personalized morning and evening videos, and keeps you in the know with "New this Week" videos so you never miss a thing
• Today Widget offers quick on-the-go access to your daily recommended morning and evening videos
• "Follow" Experts, Members and Topics and be the first to know when new videos are released
• Comment on Grokker Premium videos or ask Experts questions to get their advice
Grokker on Roku features include:
• Stunning, HD quality yoga, fitness and cooking videos; experience the difference as you watch Grokker Premium HD videos on your TV
• Conveniently take a yoga or exercise class right in your living room. It's like having a private yoga teacher or personal trainer on-call day or night whether you are an advanced yogi or new to home workouts, and no matter if you have 60 minutes or just 10; with Grokker on Roku you can quickly and easily discover your perfect video
• Easily add Grokker videos to your Grokker Favorites for even easier, faster access
• Roku users may browse and watch a limited selection of Grokker Premium videos, free, and can easily upgrade to unlimited access of all Grokker Premium videos using their Roku account
• Users who subscribe on Roku may also access Grokker Premium videos and features on web and mobile.

About Grokker:
Founded by mother, yogini, and successful entrepreneur Lorna Borenstein, Grokker is a community and resource for busy people who want to make time for wellness. Lorna's secret to her own personal and professional success is her deep commitment to a healthy lifestyle. Of course we all know that's easier said than done – you don't always have time to make it to a class or find that perfect place to take a deep breath and do something good for yourself. That's where Grokker comes in. Be a better you.
www.grokker.com
About Diva For A Day:
Diva for a Day Foundation, Inc. is a non-profit organization founded in 2010 by two friends who recognize the benefits of a day to escape from the daily stresses a woman will face while dealing with cancer.
Through the program, special Divas are selected to enjoy a complete day of pampering at a FABULOUS full service Salon/Spa.
www.divaforaday.org
Bender Group
Stacey Bender
9737440707

The news, reports, views and opinions of authors (or source) expressed are their own and do not necessarily represent the views of CRWE World.