Aragon Research announced the publication of its Globe Report for Web and Video Conferencing, 2015
PALO ALTO, Calif. -

(
EINPresswire
via
NewMediaWire
) - December 29, 2015 - Aragon Research, a technology-focused research and advisory firm committed to providing thought leading strategic research and trusted advisory services, announced the publication of its Globe
Report
for Web and Video Conferencing, 2015.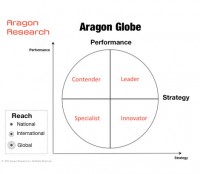 The Web and Video Conferencing Research Report examines 22 major
providers
in the real-time
collaboration
market across three evaluation dimensions, which consist of Strategy, Performance and Global Reach. Based on the evaluation, each provider is then placed into one of four spheres: Leader, Innovator, Specialist, or Contender.
"The market for web and video conferencing is experiencing tremendous consolidation," said David Mario Smith, Research Director and Lead Analyst for Collaboration at Aragon Research. "Providers are seeking to add adjacencies to support a wider range of collaboration use cases."
Learn more about these 22 providers and the convergence and evolution of web and video conferencing by reading The Aragon Research Globe for Web and Video Conferencing, 2015. The Globe report, as well additional research, is available at
https://www.aragonresearch.com
.
About Aragon Research
Aragon Research is the newest technology research and advisory firm. Aragon delivers high impact interactive research and advisory services to provide enterprises the insight they need to help them make better technology and strategy decisions. Aragon Research serves business and IT leaders and has a proven team of veteran analysts. For more information, visit
http://www.aragonresearch.com
Patricia Lundy
Aragon Research
4083550252

The news, reports, views and opinions of authors (or source) expressed are their own and do not necessarily represent the views of CRWE World.