A total $317,469 was raised in donations and grants for 32 Idaho nonprofits in the 2015 Avenues for Hope Housing Challenge
BOISE, Idaho -

(
EINPresswire
via
NewMediaWire
) - January 4, 2016 - Idaho Housing and Finance Association through its Home Partnership Foundation announced that a total of $317,469 was raised for 32 Idaho nonprofits in its fifth annual Avenues for Hope Housing Challenge. The online fundraiser, which ended December 31, is an annual event allowing businesses and individuals to help the homeless by supporting their favorite
housing nonprofits
.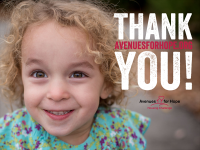 The money came from 1,439 donations totaling $172,469, plus grant prizes and matching funds of $145,000 provided by Idaho Housing, Home Partnership Foundation and 15 other sponsors.
"Idahoans are said to be some of the most generous people in the country, and we saw that during this Avenues for Hope campaign," said Gerald M. Hunter, president of Idaho Housing. "We want to extend a heartfelt thank you to all who participated in 2015 to help those who need it most in our communities."
Home Partnership Foundation, the 501(c)(3) nonprofit foundation of Idaho Housing, organizes Avenues for Hope Housing Challenge each year to enhance funding for housing nonprofits throughout the state. Donations to the
end-of-year campaign
are tax-deductible.
Avenues for Hope is in its fifth year, and has raised $971,203 to help 44 Idaho nonprofits since the campaign's inception in 2011. The event continued steady growth in 2015, with a 19% increase in the number of donations from the public and a 16% increase in dollars donated.
Nonprofits, businesses and individuals interested in participating in the 2016 campaign can contact Deanna Ward, Development Director of Home Partnership Foundation, for more information at 208-331-4756.
Editors: For detailed information on how much each participating nonprofit received, please see
accompanying table
. A video is available at
http://youtu.be/dcJV5amI1js
. Logos and images are available at
http://avenuesforhope.org/#npo-resources
.
About Avenues for Hope
The 2015 Avenues for Hope Housing Challenge helped 32 nonprofits serving the homeless and those at risk of becoming homeless across the state. The campaign saw a 19% percent increase in community involvement, with 1,439 donations received. The annual fundraiser has now raised $971,203 since its inception in 2011.
Both the chronic homeless and temporarily homeless are helped by Avenues for Hope, including domestic violence victims, veterans, people with disabilities, vulnerable youth, and low income Idaho residents.
Sponsors: Avenues for Hope 2015 was presented by Home Partnership Foundation and sponsored by Idaho Housing and Finance Association in conjunction with Academy Mortgage Corp., Bank of the Cascades, Bank of Commerce, Bank of Idaho, Barclays Capital, Citizens Community Bank, Evergreen Home Loans, Fairway Independent Mortgage, First Mortgage Company, Guild Mortgage Company, Idaho Independent Bank, KeyBank Foundation, Mountain West Bank, Prospect Mortgage and Wells Fargo.
About Home Partnership Foundation
The Home Partnership Foundation is an independent 501(c)(3) organization created by Idaho Housing and Finance Association 10 years ago to help people build a strong foundation for their lives through stable, safe, and affordable housing. Home Partnership Foundation is the organizer of the Avenues for Hope Housing Challenge, which has raised $971,203 for housing nonprofits in Idaho since its inception in 2011.
The mission of HPF is to strengthen communities across Idaho by encouraging tax-deductible charitable gifts to support shelters and shelter services for the homeless and disadvantaged, help avoid eviction actions to stabilize households and prevent homelessness, encourage asset-building and education to achieve economic independence, build equity-sharing funds to make workforce housing attainable, and facilitate tax-advantaged land donations for affordable housing purposes.
Website:
www.homepartnershipfoundation.org
Facebook:
http://www.facebook.com/HomePartnershipFoundation
Twitter:
http://twitter.com/avenuesforhope
About Idaho Housing and Finance Association
Idaho Housing and Finance Association is a financial services and housing business organization. IHFA's mission is to improve lives and strengthen Idaho communities by expanding housing opportunities, building self-sufficiency, and fostering economic development.
Website:
www.idahohousing.com
Facebook:
http://www.facebook.com/idahohousing
Twitter:
http://twitter.com/idahohousing
Kevin Petersen
Idaho Housing and Finance Association
208-331-4858

The news, reports, views and opinions of authors (or source) expressed are their own and do not necessarily represent the views of CRWE World.