Online Industry Gathers in Two Weeks for 8th annual Congress on Social Media in the Pharmaceutical Industry
LONDON, UNITED KINGDOM -

(
EINPresswire
via
NewMediaWire
) - January 5, 2016 - A snap shot of confirmed participants has just been released for SMi's 8th annual conference on
Social Media in the Pharmaceutical
Industry taking place in 2 weeks' time. The event has once again attracted a global audience featuring attendees from Denmark, Egypt, France, Germany, Italy, Pakistan, Switzerland, United Kingdom and USA.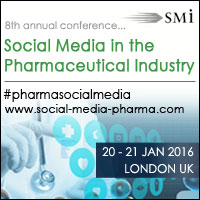 Leading pharmaceutical marketing practitioners will gather in a fortnight to participate in debates on "pharma-safe" social media platforms, the reliability of mApps, online engagement, compliance, information sharing and future outlooks.
As well as featuring two panel discussions and two pre-conference interactive workshops, the event will include over 15 topical presentations aimed to provide the pharmaceutical sector with effective social media strategic guidance and key updates on the latest online tools.
Market expert Daniel Ghinn from Creation Healthcare, will open the conference by discussing the latest industry developments and will explore techniques to strengthen digital platforms for patients and pharma.
Other event highlights include guidance on leveraging social media for patient insights and pharmacovigilance by ZS Associates; an industry perspective on strategy from Actelion; a clinical trials case study from Bristol Myers Squibb; a keynote address on patient leadership from NHS England, plus much more!
This is just a snap shot of what will be covered. Visit the
website
to see the full agenda featuring presentations from Pfizer, Novo Nordisk, GE Healthcare, Lundbeck A/S and the Patient Information Forum.
For those who are interested in attending, registration will be closing in two weeks' time. Bookings can be made online at:
http://www.social-media-pharma.com/EIN
. A snap shot of confirmed attendees is available in the downloads tab.
Social Media in the Pharmaceutical Industry
20 - 21 JAN 2016 | Holiday Inn Kensington Forum, London UK
http://www.social-media-pharma.com/EIN
| Sponsored by Synexus
Follow the event on Twitter at #pharmasocialmedia
About SMi:
Established since 1993, the SMi Group is a global event-production company that specializes in Business-to-Business Conferences, Workshops, Masterclasses and online Communities. We create and deliver events in the Defence, Security, Energy, Utilities, Finance and Pharmaceutical industries. We pride ourselves on having access to the world�s most forward thinking opinion leaders and visionaries, allowing us to bring our communities together to Learn, Engage, Share and Network. More information can be found at
http://www.smi-online.co.uk
SMi Group
Teri Arri
+44 (0)20 7827 6162
The news, reports, views and opinions of authors (or source) expressed are their own and do not necessarily represent the views of CRWE World.