Anne Hydock, Business Development at Skyline Event Services, will be honored at Accent on Excellence Awards on February 23
AKRON, Ohio -

(
EINPresswire
via
NewMediaWire
) - January 5, 2016 - Whether she's networking with the top executives in Cleveland or selling trade show displays in Detroit, Anne Hydock has earned her place among the marketing elite.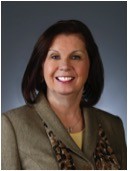 Hydock has been awarded the Achievement in Excellence Award from the Akron/Canton affiliate of the National Sales & Marketing Executives association (NSME). She was chosen from 144 applicants based on career accomplishments and exceptional customer service. The organization will recognize
Ms. Hydock
and 29 other marketing and sales professionals during the
44th Annual Accent on Excellence
Awards sponsored in part by Cain's Akron Business
"Several years ago, I 'reinvented' myself, so to speak, when the recession hit the real estate market hard. To be given such an amazing award, especially from such a well-respected organization after a little more than a decade this new industry is an honor," said Ms. Hydock.
Ms. Hydock has been at the helm of business development for
Skyline Event Services Cleveland
since 2013, helping customers with trade show display design in Detroit, trade show exhibit rental in Cleveland, and banner stands in Toledo. She began her sales and marketing career after 19 years as a commercial real estate Realtor, and with a combination of social media savvy and a knack for developing solid relationships with vendors and staff alike, Anne has grown Skyline Event Services business interests in the trade show, multimedia, and hospitality industries.
Along with her passion for trade show display design, Ms. Hydock is actively involved in Smoke-Free Ohio campaign and the Asthma Walk, and has been honored twice by the American Lung Association of Northeast Ohio for her participation and leadership during related events. She is a graduate of Cleveland State University, where she studied Business and Communications.
"I didn't expect to be where I am today 20 years ago, but I'm so glad I'm here now. I love helping businesses find their niche with trade show exhibits and trade show booth design that has a 'wow factor'. To me, it's all about the final product and the benefit to my customers. I'd like to think that's a big reason I am being honored."
To learn more about banner stand rental in Cleveland or any of the other Skyline Event Service products please visit
www.skylinees.com
.
About Skyline Event Services: Skyline is an international trade show dealer, featuring over 130 dealers in more than 30 countries. We offer a variety of customized trade show products in all shapes, sizes, and price ranges. We also offer trade show services such as exhibit management, event marketing, in-house graphics, and creative services. We consistently exceed our customers' expectations with our top-quality products and outstanding customer service.
Kristie Jones-Damalas
Skyline Event Services
216-642-6180

The news, reports, views and opinions of authors (or source) expressed are their own and do not necessarily represent the views of CRWE World.