SMi Group reports (07.01.2016, London): SMi caught up with key speaker Deborah Lee, VP of Clinical Development from INSYS Therapeutics, Inc.
LONDON, UNITED KINGDOM -

(
EINPresswire
via
NewMediaWire
) - January 7, 2016 - SMi's 10th annual
Paediatric Clinical Trials
Conference and Exhibition, takes place in London, UK, on the 16th and 17th of March 2016. The conference will feature a series of interactive sessions, roundtables and panel discussion facilitated by leading industry experts which will provide executives with useful tools and best practices to develop analgesics in paediatric population, implement a strategy regulatory partnership through collaboration, explore innovations in drug formulation, monitor and audit issues specific to paediatric research and utilize clinical pharmacology to model adult data to paediatrics.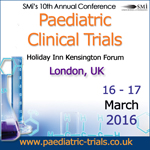 To register or to find further information on the full agenda, please visit
www.paediatric-trials.co.uk/EIN
In the run up to the conference, SMi Group interviewed key speaker Deborah Lee, VP of Clinical Development from INSYS Therapeutics, Inc. who will be presenting on Day One of the event. Deborah's presentation entitled 'Developing Paediatric Trials in the US' will cover the following topics:
• Negotiation with FDA
• Use of patient advocacy group
• Logistical difficulties with academic
Here is a snapshot of the
pre-conference interview
with Deborah:
"SMi: Why are you attending this conference?
D.L.: We need to get the message out on how important it is to do trials for paediatric diseases. Treating Alzheimer's disease may improve life for patients for the last few (non-productive) years of their life but intervening in paediatric refractory epilepsy has the potential of making a difference for 60-70 years of life."
The interview will cover Deborah's current role; challenges in the field; the main issues in paediatric clinical trials and much more. To download the full interview please visit the
downloads tab
As well as supplying attendees with the latest information on paediatric clinical trials, the 2016 event will provide the opportunity to take part in a full day pre-conference workshop entitled 'Drug development in the paediatric population'. This pre-conference workshop will give an introduction into the background of paediatric legislation both in the USA and in the EU. It will further discuss the key differences between the adult and the child's body, and the consequences in different absorption, distribution, metabolisation and excretion (ADME) in the different age groups.
For sponsorship enquiries, contact Alia Malick at +44 (0) 7827 6168 or email amalick@smi-online.co.uk
For media enquiries contact Anna Serazetdinova on +44 (0) 20 7827 6180 or email aserazetdinova@smi-online.co.uk
For delegate enquires or to register contact Matthew Apps on +44 (0) 20 7827 6093 or email mapps@smi-online.co.uk
10th annual Paediatric Clinical Trials Conference
16th – 17th March 2016
London, UK
Contact e-mail: aserazetdinova@smi-online.co.uk
Contact number: Matthew Apps +44 (0) 20 7827 6093
Event Website:
www.paediatric-trials.co.uk/EIN
About SMi Group:
Established since 1993, the SMi Group is a global event-production company that specializes in Business-to-Business Conferences, Workshops, Masterclasses and online Communities. We create and deliver events in the Defence, Security, Energy, Utilities, Finance and Pharmaceutical industries. We pride ourselves on having access to the worlds most forward thinking opinion leaders and visionaries, allowing us to bring our communities together to Learn, Engage, Share and Network. More information can be found at
http://www.smi-online.co.uk
Anna Serazetdinova
SMi Group Ltd
+44 (0) 20 7827 6093

The news, reports, views and opinions of authors (or source) expressed are their own and do not necessarily represent the views of CRWE World.