Extreme sports continue April 30th with the 16th annual Plane Pull® to benefit Special Olympics North Carolina
RALEIGH, NORTH CAROLINA -

(
EINPresswire
via
NewMediaWire
) - January 10, 2016 - More than 300 adventure seekers rappelled two high-rise landmarks while raising $177,000 to help others. Over the Edge, a fundraiser for Special Olympics North Carolina, provided high-flying descents from Charlotte's Hyatt House Center City on Nov. 14, and Raleigh's Wells Fargo's Capitol Center on Oct. 2-3.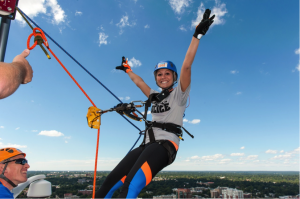 Extreme sporting for a good cause continues in April when the North Carolina Highway Patrol Smokey Bears defend their overall championship title at the 16th annual Plane Pull® for Special Olympics NC. In 2015, seventy teams of five people, representing communities across the state, collected more than $90,000 to support Special Olympics athletes. Each team competed for the fastest time pulling a 130,000-pound jet 25-feet on the UPS tarmac at Raleigh-Durham International Airport.
"We thank the many people and sponsoring companies for making 2015's Over the Edge and the Plane Pull such great successes," said Keith Fishburne, Special Olympics North Carolina President and CEO. "The funds they raised allow us to empower people with intellectual disabilities by giving them opportunities for training, success, and self-esteem in sports – building life skills and lasting relationships."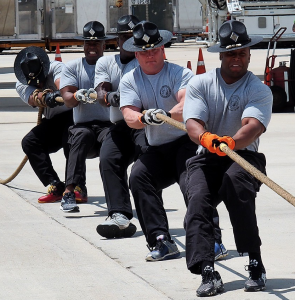 Cross-fit athletes, weight lifters, sports teams, friends, families, nonprofits and supporting companies are invited to create a team to compete in the 2016 Plane Pull for Special Olympics. Contact and registration information is available at this link:
www.ncplanepull.com
.
Over the Edge will take place in Raleigh only Sept. 30 and Oct. 1, 2016. Event registration will be open soon at
www.overtheedgenc.com
.
Over the Edge event sponsors in Charlotte included Hyatt House, J.E. Dunn Construction, Frontier Capital, and Beasley Media Group. Raleigh sponsors included Spectrum Properties, Cafe Carolina and Bakery, WRAL-TV 5 and WRAL.com, FOX50, Relias Learning RPG Solutions, HWM Office Environments Inc., Picasso Pawn, Flow Mini, and Triangle Rock Club. Sport Clips sponsored the event in both Raleigh and Charlotte.
The 2015 Plane Pull was presented by Credit Suisse, Delta, HMS Host, Raleigh-Durham International Airport, and UPS. Other sponsors included GoJet Airlines, Citadel Contractors, Food Lion, Sheetz, and Archer Western Contractors. Law Enforcement Torch Run agencies also use funds raised for the Plane Pull to benefit Special Olympics NC.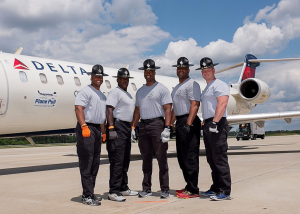 Each year, according to Fishburne, Special Olympics North Carolina provides year-round sports training and competition for nearly 40,000 children and adults with intellectual disabilities across the state.
Registration and information links:
Click here for Plane Pull®
for Special Olympics
Click here for Media Photos,
Logos, and Press Materials
Click here for Special Olympics
North Carolina
Contact:
Megan O'Donnell
Vice President of Communications
Special Olympics North Carolina
P: 919-818-4598
E: modonnell@sonc.net
www.NCPressRelease.org
www.RBButler.com
#PlanePull #SpecialOlympics #OverTheEdge #SONC #OTERaleigh #OTECharlotte #SONC_beafan
North Carolina Press Release
919-455-8345

Robert B Butler Communications | PR
The news, reports, views and opinions of authors (or source) expressed are their own and do not necessarily represent the views of CRWE World.