Impactful film is a sports drama with underwater cinematography & a conflicted leading female
LOS ANGELES -

(
EINPresswire
via
NewMediaWire
) - January 10, 2016 - Filmmaking has been a male-dominated art form from the Golden Age of Hollywood to the modern Studio System. The decades-long trend has commonly featured males in leading roles both in front of and behind the cameras.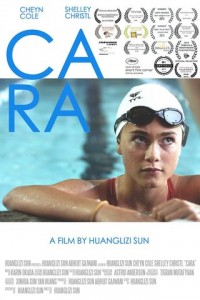 Huanglizi Sun, however, is changing the trend with her critically acclaimed short drama, "Cara."
Sun, a burgeoning film producer from Changsha, China, directed, produced and wrote "Cara," which won awards in 2015 at the Los Angeles Independent Film Festival, the San Francisco Film Awards, the 2nd Meet Film Festival and the IFA International Film Festival. The film was an Official Selection at 19 film festivals around the world. "Cara" has also been named an Official Selection for this year's Delhi Women International Film Festival and the China Women's Film Festival.
Not only does "Cara" demonstrate Sun's total filmmaking aptitude, its thematic content is equally female-driven.
"As a female producer, I want to create and tell stories from women's perspectives," Sun said.
For "Cara," Sun unveils the story of the leading teenage female protagonist who is a competitive swimmer at a personal crossroads. Cara discovers she's pregnant, but she's torn internally with the life-defining decision to have and keep her baby or to continue her career as a swimmer.
Starring in the film as Cara is the talented Cheyn Cole, who received a Best Actress nomination for the role from the Los Angeles Independent Film Festival Awards. Cole had previously acted in episodes of ABC's Golden Globe winner, "Modern Family" and Showtime's Golden Globe winner, "House of Lies."
Sun drew upon inspiration to create the film from a close personal source.
"I actually made this movie about my mom," Sun said. "My mother is a former volleyball player for the state team. I wanted to tell a story about female athletics, but the story is really about a relationship between a mother and daughter."
The award-winning, veteran Russian filmmaker Tigran Mutafyan, who received a Best Visual Effects nomination at the African Oscars-NAFCA 2013 for his work on "The Fetus," served as director of photography for "Cara."
"I was taken aback by the goal Huanglizi had in mind for this film and the motivation that was driving her to make this film a huge success," he said. "The hunger in her made me join the project in a split second."
After scripting was complete, Sun applied her efforts toward producing the project, which had one unique nuance that made it stand apart from many other impressive films bound for the spotlight of distinguished festivals.
"A lot of filmmakers have done athletics stories about youth and teenage relationships. But I had my own vision knowing how to deliver the beauty of the swimming underwater sequence and I knew it would work for the story," said Sun.
To achieve her vision and bring audiences underwater along with Cara, Sun selected the long-established, veteran underwater camera operator, Topher Jones, as a trusted source who could get the job done. Jones has worked on more than 25 films and previously served as the underwater director of photography for "Jurassic World" and "Dawn of the Planet of the Apes."
The underwater sequences Jones helped capture proved to be a success and enhanced the film's reception just as Sun had foreseen. "He did a fantastic job," Sun said. "It really is breathtaking."
Not overshadowed by Sun's direction was her consummate producing for "Cara." The production featured 40 crewmembers, five principal actors and 50 background actors. Sun was proactively hands-on in every phase from location scouting, casting, hiring crew and equipment rentals, as well as wardrobe and camera choices.
Shondale Seymour is a widely established Chief Financial and Operations Officer for publically traded and non-profit businesses, as well as a business owner, consultant and successful actress, director and producer. For "Cara," Seymour acted in the role of Cara's head swimming coach, and was also involved with other aspects of the production.
"I was involved with Cara from the casting process through its festival run," Seymour said, "allowing me to observe Huanglizi's organization and planning skills, attention to detail, ability to work with several different personalities, select the best talent/team members and bring out the best in each us. I watched her keep a project moving forward and do it on budget. I also saw how she developed her vision and was able to communicate it to her team members, so that everyone was working towards the same goal."
Noting how Sun has developed into a complete producer, Seymour added, "Ms. Sun is not someone who accepts mediocrity but strives for excellence in everything she does. She continues to develop her skills, working with different companies and on different projects so that she has a broad skillset and depth of understanding of every aspect of the producer role in the entertainment industry."
Establishing herself as an international talent to watch, Sun gained industry experience working at Hunan TV, the second largest television station in China. She currently dispatches her producing talents for Mob Scene Creative + Productions in Beverly Hills, where she produces for the show, "Talking to Hollywood," that currently broadcasts on the major TV station – CCTV and iQiyi in China.
Her filmography includes producing Yucheng Zhao's multi-award-winning short period drama, "Twin Lotus" and Abhijit Gajwani's "Gnossienne" that screened at the Cannes Short Film Corner (France) and at festivals in India, Italy, Austria, Germany and the U.S. Sun also produced Xinwan Yu's short fantasy, "Fall," Xi Yang's "Repentance," Sam Zhang's "Mercury" and 2013's "Girlfriend," which she also wrote and directed.
For more information, visit:
http://www.huanglizisun.com
http://tinyurl.com/CaraIMDb
http://tinyurl.com/HuangliziIMDb
Follow "Cara" on Facebook:
http://www.facebook.com/carashortfilm
Jeremy Curtis
JNC
3102378909

The news, reports, views and opinions of authors (or source) expressed are their own and do not necessarily represent the views of CRWE World.