Within The Open Group community, ITpreneurs offers courseware for TOGAF® and ArchiMate® portfolio and is participating in the development the IT4IT™ program
ROTTERDAM, NETHERLANDS -

(
EINPresswire
via
NewMediaWire
) - January 11, 2016 - ITpreneurs announces that it has become a Gold Member of The Open Group, the vendor-neutral global IT consortium. ITpreneurs engages with many framework owners and standards bodies around the world. As a provider of training content and services, we ensure that the voice of our customers, more than 500 leading IT training and consulting organizations, is adequately reflected through our participation in these organizations.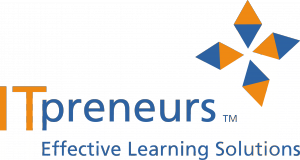 "As a member, we are able to tap into and provide input into the work being carried out by several Forums of The Open Group including the IT4IT™ Forum and the Architecture Forum (which works on the development of the
TOGAF®
, an Open Group standard). The strength of The Open Group lies in the collaborative and open development of new frameworks and standards. Our membership gives us access to the thought leadership, and presents opportunities for the training community at large to offer relevant training programs to IT professionals," says Arjan Woertman, VP R&D ITpreneurs.
"We are very pleased to see ITpreneurs upgrade to become a Gold Member of The Open Group" said Steve Nunn, President and CEO of The Open Group. "We welcome the broader participation of ITpreneurs in our standards-setting activities, and their increased involvement in the continued development of our training and certification programs".
Within The Open Group community, ITpreneurs offers both the TOGAF® and ArchiMate® portfolio and is participating in the development the IT4IT™ program. We enable ATCs (accredited training companies) and Affiliates to develop a strong and successful proposition in their markets.
ITpreneurs provides IT training content and services to training providers worldwide. We'll help you keep up with changes, scale your business and increase your profitability.
Learn how we add value
to your IT training business.
Connie Tai
ITpreneurs Netherlands BV
107110260

The news, reports, views and opinions of authors (or source) expressed are their own and do not necessarily represent the views of CRWE World.