SMi's 8th Pre-Filled Syringes Conference & Exhibition takes place in less than 2 weeks' time on the 27-28 Jan 2016 in London
LONDON, UK -- (
EINPresswire
via
NewMediaWire
) -- January 12, 2016 -- This
premium event
will feature over 100 selected senior pre-filled syringes experts from leading PFS markets, including Austria, Belgium, Finland, France, Germany, Japan, Switzerland, UK, USA and many other countries. Event attendees will gather to discuss solutions to accelerate PFS development and technology advancements, as well as how a more patient-centric designed PFS will enhance usability. This event provides the perfect platform for networking and knowledge sharing amongst delegates.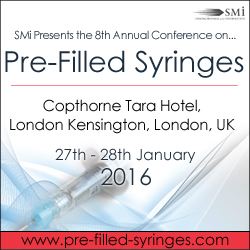 The
speaker line up for 2016
will include top decision makers from the likes of MHRA, Novartis Pharma AG, Sandoz, Barts Health Pharmaceuticals, GSK R&D, F.Hoffmann-La Roche Ltd, Sanofi R&D, Allergan, Amgen and many more.
A full agenda breakdown and further information can be accessed at
www.pre-filled-syringes.com/EIN
Further benefits of Pre-Filled Syringes 2016 include:
• Spotlight case studies from F. Hoffmann-La Roche and Amgen US on usability challenges of PFS on combination products
• Sanofi R&D showcases the path to auto injectors
• Q&A with the UK regulator MHRA
• Technology updates from solution providers such as Noxilizer, Mitsubishi, Nemera, BD, West Pharma and Terumo
Running alongside the conference will be two interactive
workshops
which will take place on the 26th January.
Workshop A, "Pre-Filled Syringes: Development, Packaging and Regulatory Considerations" will be led by Horst Koller, CEO, HK Packaging Consulting GmbH and workshop B, "Bridging the Gap - From Formulation to PFS Device Engineering will be led by Jean-Rene Authelin, Global Head, Pharmaceutical Engineering, Sanofi R&D.
For further information on the workshops and the hosts, please visit
www.pre-filled-syringes.com/EIN
Spaces for both the conference and workshops are limited and filling up rapidly, therefore it is advised to register as soon as possible.
For delegate enquiries: Contact Fateja Begum on +44 (0) 207 827 6184 or e-mail fbegum@smi-online.co.uk
For sponsorship enquiries: Contact Alia Malick on +44 (0) 207 827 6168 or e-mail amalick@smi-online.co.uk
Pre-Filled Syringes 2016 is proudly sponsored by 3P Innovation, AAF International, BD, Medical Device Usability, Mitsubishi Gas Chemical, Nemera, Nipro, Noxilizer, Nypro Healthcare, Owen Mumford, Steris, teamtechnik, Terumo, West Pharmaceutical Services and Zwick Testing Machines.
8th annual Pre-Filled Syringes Conference
27th - 28th January 2016, London, UK
www.pre-filled-syringes.com/EIN
Contact e-mail: jrotar@smi-online.co.uk
About SMi Group:
Established since 1993, the SMi Group is a global event-production company that specializes in Business-to-Business Conferences, Workshops, Masterclasses and online Communities. We create and deliver events in the Defence, Security, Energy, Utilities, Finance and Pharmaceutical industries. We pride ourselves on having access to the worlds most forward thinking opinion leaders and visionaries, allowing us to bring our communities together to Learn, Engage, Share and Network. More information can be found at
http://www.smi-online.co.uk
SMi Group Ltd
Julia Rotar
+44 (0) 207 827 6184

The news, reports, views and opinions of authors (or source) expressed are their own and do not necessarily represent the views of CRWE World.