AppOnFly is releasing the statistical software IBM SPSS for online cloud access. The statistical package is available as "software as a service".
SAN FRANCISCO -
(
EINPresswire
via
NewMediaWire
) - January 20, 2016 - AppOnFly Inc. is announcing the launch of the software package IBM SPSS in its latest v23 release available from cloud.
AppOnFly makes IBM SPSS accessible through either a remote desktop protocol (RDS) or directly through a html5 browser access.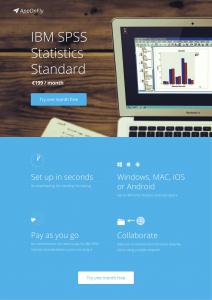 About IBM SPSS Statistics Standard

The IBM SPSS Statistics Standard Edition offers the core statistical procedures business managers and analysts need to address fundamental business and research questions. This software provides tools that allow users to quickly view data, formulate hypotheses for additional testing, and carry out procedures to clarify relationships between variables, create clusters, identify trends and make predictions.

Main advantages of IBM SPSS statistics
SPSS is No.1 statistical software, user friendly with an easy to use user interface.
SPSS is able to run additional analyses not built or sold together.
SPSS is very flexible with the ability to add different modules for advanced analyses
Apponfly offers the statistical software IBM SPSS in either
IBM SPSS Standard
for just €199.00 / month or the
IBM SPSS Base
version for only €99.00 / month.
The online cloud access to IBM SPSS through the AppOnFly subscription model has the following advantages: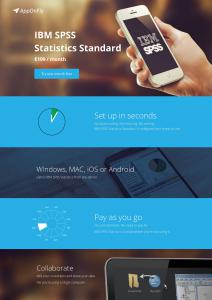 Setup in seconds
No downloading. No installing. No waiting. IBM SPSS Statistics Standard is configured and ready to use.

Pay as you go model


There are no commitments for the user and no need to pay for the software when they are not using it.

Easy team collaboration


The users can add their co-workers and share there data as if they were using a single computer.
The can select Shared folder and choose sho can view or edit the file.

Files are save and secure


Even if the user's device goes for a swim, the data is always safe with AppOnFly.

About AppOnfly:

AppOnfly is bringing to the user Windows software from the cloud, faster and easier than ever before.
Our mission has always been to make Windows software more accessible for everyone. We believe that you should have the freedom and flexibility to pluck any Windows software the user needs from the cloud, whenever and wherever he or she needs it. Not only that, we don't believe that the user should be forced into long-term financial commitments. We reckon that pay-as-you-go is the way to go.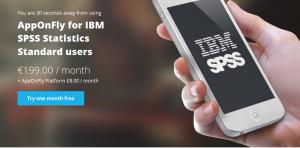 AppOnfly first had the idea to deliver apps from the cloud way back in 2005 (light years in tech years!) and have been perfecting the platform for doing this ever since. The AppOnFly platform is now capable of delivering an ever-increasing choice of
professional Windows apps
from the cloud, within just a few seconds.
Amongst the software to choose from are above all Microsoft Access, Microsoft Office, Microsoft Project and Microsoft Visio and others.
Kristina Airikh
Apponfly Inc.
+420 222 745 000

The news, reports, views and opinions of authors (or source) expressed are their own and do not necessarily represent the views of CRWE World.