SMi reports (2016.01.20 – London): Registration is now live for the 10th Clinical Trial Logistics on 23-24 May at the Holiday Inn Kensington Forum, London, UK
LONDON -

(
EINPresswire
via
NewMediaWire
) - January 21, 2016 - SMi Group proudly presents the
10th Clinical Trial Logistics
Conference and Exhibition in London.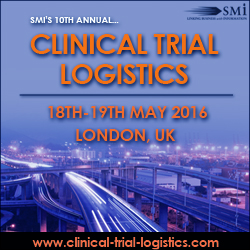 According to recent market research the clinical trial supplies industry is expected to reach $1.2Billion by 2020*, with the logistics and distribution services segment accounting for the largest share of the market. This rapid market growth is aligned with a significant change in the regulatory landscape with the implementation of Annex 15 of the Good Manufacturing Practice in Autumn 2015. Moreover, as the New EU Clinical Trials Regulation nears execution, all parties in the clinical supply chain are sure to be affected.
SMi's 10th Annual Clinical Trial Logistics event provides the perfect platform to raise and discuss the challenges associated with these changes featuring key updates from the MHRA and insights from leading pharmaceutical companies including Daiichi Sankyo, GlaxoSmithKline, Sanofi, Norgine, Lundbeck, Takeda, etc. Visit the event website for more information at
http://www.clinical-trial-logistics.com/EIN
Key topics
will explore the logistical challenges in emerging markets; the latest innovations made on maintaining temperature in shipment; the visibility in the supply chain to fight counterfeiting; cost-reduction; maintaining a successful contractor relationship; and integration of forecasting and supply planning to an efficient clinical supply chain.
FEATURED EXPERT SPEAKERS INCLUDE
:
• Graham McNaughton, Pharmaceutical Assessor, MHRA
• Elisabetta Carli, Head, Operations Clinical Vaccines Management, GlaxoSmithKline
• Tony Moult, Director, Clinical Supplies Ooperations, Daiichi Sankyo
• Geoffroy Bessaud, AVP, Anti-Counterfeiting Coordination, Sanofi
• Dawn Padfield, Director of Pharmaceutical Development and Clinical Supply, Norgine
• Elodie Fontaine, Clinical Trial Lead, Lundbeck
• Jasmine Hellwig, Senior Comparator Specialist, Merck Sharpe and Dohme
• Abdulkareem Ghanayem, Clinical Trial Operations Project Manager, Takeda, and many more.
For a full list of speakers and topics, visit
http://www.clinical-trial-logistics.com/EIN
Lead Sponsor – FedEx.
For sponsorship inquiries, contact Alia Malick at +44 (0) 7827 6168 or email amalick@smi-online.co.uk
For delegate/group registration, contact Fateja Begum at +44 (0) 20 7827 6184 or email fbegum@smi-online.co.uk
10th Annual Clinical Trial Logistics Conference and Exhibition
London, UK
18-19 May 2016
http://www.clinical-trial-logistics.com/EIN
*Source:
http://goo.gl/pB8DsA
About SMi Group:
Established since 1993, the SMi Group is a global event-production company that specializes in Business-to-Business Conferences, Workshops, Masterclasses and online Communities. We create and deliver events in the Defence, Security, Energy, Utilities, Finance and Pharmaceutical industries. We pride ourselves on having access to the world's most forward thinking opinion leaders and visionaries, allowing us to bring our communities together to Learn, Engage, Share and Network. More information can be found at
http://www.smi-online.co.uk
Honey de Gracia
SMi Group Ltd
+44 (0)20 7827 6102

The news, reports, views and opinions of authors (or source) expressed are their own and do not necessarily represent the views of CRWE World.