SMi Group reports (2016.21.01): The 5th annual ADC Summit takes place at the Holiday Inn Kensington Forum, London, UK on the 23rd – 24th May 2016
LONDON -

(
EINPresswire
via
NewMediaWire
) - January 24, 2016 - SMi is delighted to announce that its
5th ADC Summit
will take place on 23rd – 24th May in London, UK. Registration to the conference is now live. Visit the event website on
http://www.adcsummit.com/ein
.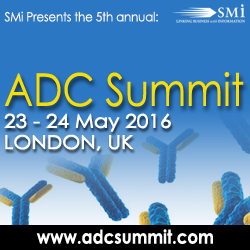 With the FDA's recent approval of ADCs Adcetris and Kadcyla, the industry has never been moving faster. New innovations in developing the next best generation ADCs are bursting into the clinic at a rapid rate.
SMi's 5th ADC Summit provides a comprehensive analysis of the various approaches with the next generation ADCs. Hear the latest insights from Takeda on Adcetris; discuss the latest advancements in research and development from Medimmune; and analyse case studies from big pharma companies such as Roche, Bayer, Pfizer, AstraZeneca, Novartis and many more.
Key sessions include
:
• Takeda presents how ADCETRIS® (brentuximab vedotin) was developed to treat Hodgkin Lymphoma
• Advancement in antibody drug conjugates: a step closer to magic bullets in war against cancer
• Safety at the forefront: homogeneity of ADCs for highly effective and safer cancer therapy and many more.
For the the complete event agenda including all speakers and their topics, visit
http://www.adcsummit.com/ein
In addition, don't miss the two interactive half-day
post-conference workshops
taking place on the 25th May 2016 at the Holiday Inn Kensington Forum, London:
WORKSHOP A: ADC Payloads: Availability and Mechanisms of Action hosted by Femtogenix and King's College London
WORKSHOP B: Developments in High Potency Manufacturing hosted by SKAN AG
Join industry experts as they share, confer and debate how to create the next wave of ADCs with better efficacy, lower toxicity and improved potency for clinical success.
Book by February 29th to benefit from the £400 early bird discount.
For more information or to register visit
http://www.adcsummit.com/ein
Alternatively contact Fateja Begum on +44 (0) 207 827 6184 or e-mail fbegum@smi-online.co.uk
About SMi Group:
Established since 1993, the SMi Group is a global event-production company that specializes in Business-to-Business Conferences, Workshops, Masterclasses and online Communities. We create and deliver events in the Defence, Security, Energy, Utilities, Finance and Pharmaceutical industries. We pride ourselves on having access to the worlds most forward thinking opinion leaders and visionaries, allowing us to bring our communities together to Learn, Engage, Share and Network. More information can be found at
http://www.smi-online.co.uk
Honey de Gracia
SMi Group Ltd
+44 (0)20 7827 6102
The news, reports, views and opinions of authors (or source) expressed are their own and do not necessarily represent the views of CRWE World.