Press Releases
2015-10-13
eHDF will be participating at GITEX 2015, the biggest technology event across the Middle East and will showcase different products
DUBAI, UAE -

(
EINPresswire
via
NewMediaWire
) - October 13, 2015 -- eHosting DataFort (eHDF), the region's leading managed hosting and cloud infrastructure services provider, has confirmed its participation in GITEX Technology Week 2015, being held from October 18 - 22 at Dubai World Trade Centre. Located at the Cloud Confex area in Hall 6, stand number CLD -19, eHDF will showcase its enhanced Managed Hosting, Cloud Infrastructure and Disaster Recovery services.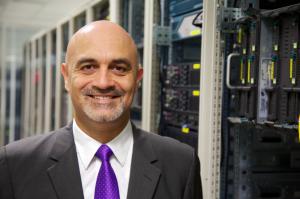 Speaking on their participation, Yasser Zeineldin, CEO, eHosting DataFort said: "GITEX is a great networking platform to meet existing customers and build new relations. It draws many SMEs and large enterprises from around the region seeking IT solutions and our participation in the event allows us to share our latest service innovations with the market. The event also allows us to gain deeper insights into regional requirements, and we are definitely looking forward to yet another successful week at GITEX 2015."
According to International Data Corporation (IDC), the market for managed and data centre services in the UAE will grow at a CAGR of 19.8% between 2013 and 2018 to reach a total of $971.8m by 2018.
eHDF has seen significant growth in the uptake of its core services such as Managed Hosting, Disaster Recovery and Hosted Private Cloud over the last year.
The company will showcase these offerings and highlight enhancements made to these services. These enhancements include data centre upgrades, technology refresh and new network, security and storage technologies that augment and support these services. Demonstrations and presentations on the stand will provide deeper understanding into these robust and reliable IT solutions.
eHDF owns and operates multiple Tier 3 data centres within Dubai and has customers across different verticals such as banking & finance, education, retail, government, e-commerce, etc. GITEX is the perfect opportunity for eHDF to demonstrate its wide portfolio of Managed Services which include Network Services, Security Services, Storage and backup, Monitoring services, etc. Additionally, Cloud services has seen increased uptake over the last few years. eHDF will also be showcasing their Hosted Private Cloud offering which is a unique offering for clients who wish to have their own Virtual Data Centre.
According to a survey conducted by eHDF last year on Business Continuity Management (BCM), in partnership with Continuity and Resilience (CORE), the Business Continuity Institute (BCI) and DNV GL Business Assurance, 30% of the respondents indicated that they plan to outsource their IT Disaster Recovery to a specialist external services provider. eHDF understands the varying needs of businesses and offers a range of Disaster Recovery services that include Hosted DR Sites, Business Continuity Seats and Data Replication Solutions. They plan to highlight the benefits of their end-to-end Disaster Recovery solutions at GITEX Technology Week 2015.
"Our market research and understanding guides us into expanding our portfolio to ensure that we are able to service UAE's unique IT requirements as a one-stop-shop hosting services provider. Simultaneously, we work hard to collaborate with best-of-breed technology partners who provide us with the latest products which enable us to tackle unique customer demands. GITEX Technology Week also gives us the opportunity to spend quality time with our partners to discuss market demands." Zeineldin added.
eHosting DataFort has established itself as a market leader in the field of managed hosting and cloud infrastructure services. The company has been recognised year-on-year as the 'Best Managed Service Provider of the Year' across the Middle East for the last seven years.
Shaina D'souza
Oak Consulting
0502531818

The news, reports, views and opinions of authors (or source) expressed are their own and do not necessarily represent the views of CRWE World.