Interact-TV Incorporated's newly formed, wholly owned subsidiary record label, Blue Mask Records, announced the signing of its first act: Rome Will Burn
LOS ANGELES, Calif. -

(
EINPresswire
via
NewMediaWire
) - October 13, 2015 -- Blue Mask Records, a newly formed wholly owned subsidiary of Interact-TV Incorporated (OTC Pink: ITVI) is pleased to announce the signing by the label of a new act, Rome Will Burn.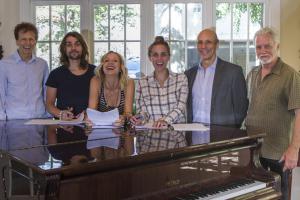 Rome Will Burn is an electro-pop duo. The L.A. based band consists of DJ, electric violinist, Manifesto and singer/guitarist, Alyssa Suede. The duo signed a five-album deal with the new label, Blue Mask Records - sister label to Interact TV's Pocket Kid Records (the home of rock act, Dead Sara).
Rome Will Burn is the brainchild of Alyssa Suede and Manifesto. The duo came together to form a band in 2013 combining Alyssa's singer/songwriter background with Manifesto's DJing and Gypsy violin playing. Rome Will Burn's live performances delight audiences with theatricality, giving fans a fresh take on electronica. With the guidance of Randy Jackson, RWB recorded their debut EP with producer/arranger David Campbell. David is father to both Alyssa Suede and Beck, and does arrangements for both of their albums. Beck's last album "Morning Phase" won Grammy Album of the year in 2015.
Alyssa Suede and Manifesto bring multiple talents and diversity to the group. As a child, Alyssa trained in ballet and figure skating winning trophies and titles with Olympic coach, John Nicks. Manifesto spent his youth studying classical violin and gaining an international presence performing for audiences around the world. Later, Alyssa studied acting at the Royal Academy of Dramatic Art in London but ultimately decided to pursue music. She learned guitar and kicked off her career with a series of impressive musical accomplishments as a singer-songwriter, performing at SXSW and Sundance. "She may be the sister of Beck, but Alyssa more sounds like a mix of Jewel and Alanis Morrissette."- Rock-is-Life. Her music videos, Falling From Mars and Hollow (3D), won awards at International film festivals including Best Song at the Hollywood Film Festival and Canada's "Rising Star Award."
Manifesto left the classical world to test the waters as a Trance/ Progressive/ Electro/ Tech House DJ. There he swiftly captured the underground scene with his charisma and versatile blend of European and American influenced electronic violin. From there he expanded into producing original music and delivering cutting edge mashups. In 2006, his first single, "Shaken, Not Stirred" took airways by storm. He went on to collaborate with Seal, Benny Benassi, Nick Terranova, Paul Mendez, DJ FEEL, Bobina, Paul Van Dyk and Nadia Ali.
Rome Will Burn's debut EP
is scheduled to be released on Blue Mask Records on October 20th, 2015 worldwide. "We are very pleased to extend our brand into the pop arena, and we couldn't get a better start than with talent like Rome Will Burn," said Robert Bryan, President of Interact-TV. "Their act is original. Their EP is killer. And performing live, Rome Will Burn lights a fire that has the audience jumping up and down and singing along on every song."
"Expansion into the pop genre", continued Robert, "is a giant leap forward for our music division. Alyssa's father, David, and brother, Beck, are both icons of the music industry. We expect Alyssa and Manifesto to follow in their steps and garner awards for themselves and our label."
About Interact-TV: Interact-TV Incorporated, a publicly-traded Delaware corporation (ITVI) is a diverse entertainment company currently operating
Internet TV
and
Internet Radio
stations as well as producing and distributing recorded music products through its wholly-owned subsidiaries, Pocket Kid Records, Blue Mask Records, and Viscount Records. For more information go to
WWW.Interact-TV-Inc.com
About Blue Mask Records: Blue Mask Records is an innovative new record company that concentrates on developing artists in the pop genre and providing an environment that attracts top talent by being supportive and less controlling of artists' respective visions and products than traditional multi-media companies. For more information visit
WWW.BlueMaskRecords.com
.
For more information, please contact:
Robert Bryan,
Blue Mask Records
818-334-4225 x 100

The news, reports, views and opinions of authors (or source) expressed are their own and do not necessarily represent the views of CRWE World.