Minnesota's initiative in the ethanol industry is serving as a blueprint for helping solve future energy & economic challenges
PENSACOLA, Fla. -

(
EINPresswire
via
NewMediaWire
) - October 15, 2015 - Bobby Likis, automotive expert and host of nationally syndicated car-talk program "
Bobby Likis Car Clinic
," shares the mic with Randy Doyal, Chief Executive Officer of
Al-Corn Clean Fuel
in Claremont, MN, and Chairman of the Board of the
Renewable Fuels Association
, on Saturday, October 17, 2015, at 10:41a ET.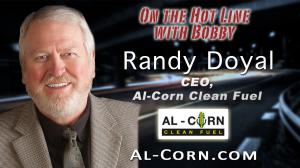 Doyal is well-steeped in ethanol production and well-versed on its benefits. A 30-year veteran of the ethanol industry, Doyal began as a "cooker" with Mountain Development Corporation and has since served on many industry-related boards, including Minnesota AgriGrowth Board, Minnesota Biofuels Association, Chairman of Renewable Products Marketing Group, Chairman of the Board for Guardian Energy LLC in Janesville, MN and on the Board of Guardian Energy Management.

This Saturday, Doyal will brief Car Clinic listeners and viewers on how the ethanol market is evolving and how Minnesota's initiative in the industry is serving as a blueprint for helping solve future energy & economic challenges.

Doyal previews, "Ethanol's track record of continuous improvement is impressive, but that drive for constant improvement is characteristic of the creative people who make up our industry. The ethanol industry has significant potential to continue to evolve in ways that cannot be matched by petroleum fuels." He adds, "I will admit that with all the information and misinformation about ethanol, it is sometimes difficult to separate fact from fiction. But I believe that an honest evaluation of our nation's ethanol industry will reveal a success story of which the American people can be proud. The ethanol industry embodies the kind of forward-thinking and pragmatism that will be needed to meet our nation's future energy and economic challenges."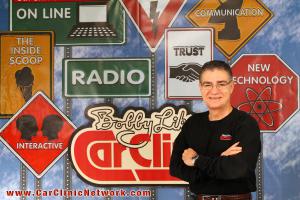 Likis remarks, "I'll ask Randy to tackle some commonly held ethanol myths and to comment on the most pressing continuation of the Renewable Fuel Standard." He invites, "Drivers, consumers, voters: tune in to Car Clinic for Randy's plain-speak about ethanol...then you make an informed decision."

To view Doyal's interview in its entirety, visit
www.WatchBobbyLive.com
on Saturday, October 17, at 10:41a ET.
About Bobby Likis Car Clinic and the Car Clinic Network:
Bobby Likis Car Clinic is the largest car-talk program/network on commercial radio, multiple web audiocasts, live video streaming webcast, podcasts (including iTunes), iPhone, chat room, YouTube, Facebook, Twitter, American Forces Radio Network & television. Car Clinic can be heard and seen in high-definition video on Saturdays, 10a-12n ET, live at WatchBobbyLive.com, on Facebook.com/BobbyLikis and on YouTube.com/BobbyLikis. Host Bobby Likis is the only car-talk host on commercial multi-media platforms named for five consecutive years to the "Talkers 250," the prestigious list of the top 250 talk-show hosts in America. Likis also owns and operates a 15,000sf automotive service center, whose awards include "Best Automotive Service Shop," "Best Oil Change," and most recently, "Best Reputation in Automotive Service."
About Al-Corn:
Al-Corn Clean Fuel is a farmer-owned ethanol production cooperative in Claremont, MN. Al-Corn's 500 members invest in the company financially and agree to deliver a quantity of corn to the plant determined by their investment. The "corn commitment" has been a key contributor to Al-Corn's success. Annually Al-Corn grinds 17.5 million bushels of corn and produces 50 million gallons of ethanol. In addition, the plant produces 132,000 tons of high protein livestock feed and 12 million pounds of corn oil, we also capture 70,000 tons of beverage grade carbon dioxide, all of which are resold. The cooperative model allows members and their communities to benefit from a secure local market and the co-op's earnings and investments.
About Renewable Fuels Association:
Since 1981, the Renewable Fuels Association (RFA) has been the authoritative voice of the U.S. ethanol industry. Our members are committed to helping our country become cleaner, safer, and more energy independent. In creating a forum for ethanol producers and industry stakeholders, RFA has achieved an unequaled record of results through action, advocacy and analysis. With the most experienced staff in the industry, RFA is able to provide timely, comprehensive industry information to our members, Congress, federal and state government agencies, fuel marketers and retailers, strategic partners, the media and other opinion-leader audiences. RFA has been the industry's most forceful advocate for expanding the market for ethanol. Just as important, we've worked to beat back aggressive challenges to ethanol's progress from special interests seeking to maintain fossil fuel status quo.
Car Clinic Network
Diane Somer
850-478-3139

The news, reports, views and opinions of authors (or source) expressed are their own and do not necessarily represent the views of CRWE World.