Call for nominations of champions of free speech closes 10.00 (GMT) Tuesday 20th October 2015.
LONDON, U.K. -

(
EINPresswire
via
NewMediaWire
) - October 18, 2015 - Final days to nominate for Index on Censorship Freedom of Expression Awards 2016.

• Awards honour journalists, campaigners and artists fighting censorship globally.
• Nominations close at 10.00 (GMT) Tuesday 20th October 2015.
• Nominate at
https://awards.indexoncensorship.org/#nominate-now
• Winners will be honoured at a gala in London on 13th April 2016.
Nominations for Index on Censorship's annual global Freedom of Expression Awards will soon be drawing to a close. Over the past 16 years, the awards have honoured some of the most remarkable fighters for free expression from around the world – from familiar faces like orchestral conductor Daniel Barenboim and education activist Malala Yousafzai to lesser known trailblazers like Angolan investigative journalist Rafael Marques de Morais and the banned yet defiant Moroccan rapper El Haqed.
The Freedom of Expression Awards are the only awards of their kind, seeking to honour those who dedicate their lives and work to protecting freedom of speech, and nominations cover 4 categories:
• Arts for artists and arts producers whose work challenges repression and injustice and celebrates artistic free expression.
• Campaigning for activists and campaigners who have had a marked impact in fighting censorship and promoting freedom of expression.
• Digital Activism for innovative uses of technology to circumvent censorship and enable free and independent exchange of information.
• Journalism for courageous, high impact and determined journalism that exposes censorship and threats to free expression.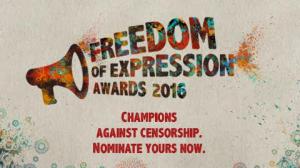 Nominations for 2016 will be closing at 10.00 (GMT) on Tuesday 20th October 2015 and a final shortlist of remarkable candidates will be announced in late January 2016.
Winners are selected by a panel of judges, which in 2016 will include Nobel prize-winning poet and playwright Wole Soyinka, human rights lawyer Kirsty Brimelow QC and pianist James Rhodes amongst others. Winners will then be flown to London for a Gala on 13th April 2016, where they will be presented with their awards. They will also be inducted to the Index Awards Fellowship Programme, an intensive week of training and networking followed by 12 months of follow up support.
Jodie Ginsberg, CEO of Index (
www.indexoncensorship.org
), said: "The Index Freedom of Expression Awards is a chance for those whom others try to silence to have their voices heard. I encourage everyone, no matter where they are in the world, to nominate a free expression hero." Rafael Marques de Morais, winner of the 2015 Freedom of Expression Award for journalism said "winning the Index Award helped to make my case an international cause, I am so grateful for the support and attention."
For more information on the awards, please email events@indexoncensorship.org or call +44 (0) 207 260 2660.
David Heinemann
Index on Censorship
+44 (0) 207 260 2660

The news, reports, views and opinions of authors (or source) expressed are their own and do not necessarily represent the views of CRWE World.